October 11, 2019 - 10:53am
City, County receive surplus MRAP from federal government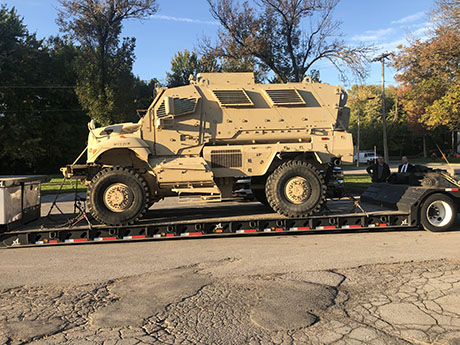 Press release:
The Batavia Police Department and Genesee County Sheriff's Office has received an armored rescue vehicle from the U.S. Government's 1033 program.

The program allows for departments across the nation to receive surplus military vehicles, for free, to use in special operations.

The vehicle received is called an MRAP, which stands for Mine-Resistant Ambush Protected. The vehicle was designed to withstand improvised explosive devices and ambush attacks. Due to its larger size, heavyweight, and big tires, it is also a perfect vehicle to use during flood situations and natural disasters.

The departments will take possession of the vehicle today and will begin retrofitting it with the necessary equipment to include paint, decals, lights/sirens, seating, and communications to make it suitable for law enforcement use.

The departments plan to use the vehicle for a multitude of duties to include, rescue operations during floods or natural disasters and high-risk law enforcement activities such as active threats/warrant executions, throughout the county.

This new addition will allow the departments to provide better protection to citizens in natural disaster situations and also protect officers who are involved in higher-risk law enforcement activities.

The Batavia Police Department and Genesee County Sheriff's Office are proud to have this vehicle which better prepares the City of Batavia and Genesee County for any threat, both natural and man-made.
Previously: