April 21, 2017 - 1:14am
Flood waters at Harvester Center threatens production of Hamlet, but show will go on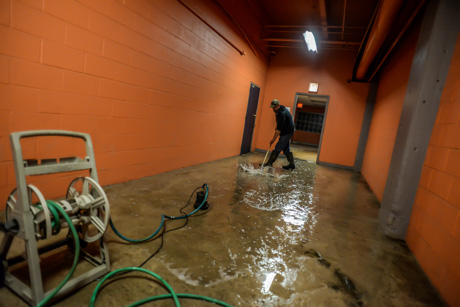 Hamlet may be undecided about his fate, but the Shakespeare tragedy will "be" despite heavy flooding overnight at the Harvester Center that came close to jeopardizing the stage and the costume and prop room of Batavia Players at 56 Harvester.
Batavia Players President Pat Burk said Batavia City firefighters had a lot to do with keeping the heaviest flood waters out of the most critical areas of the theater.
Most of the flooding, caused by last night's heavy rain, was confined to the common areas just outside of the theater, but some water did get into the theater and members of the troupe are being asked to come in tomorrow at 3 p.m. to clean up inside the theater.
The Players are scheduled to open Shakespeare's "Hamlet" at 7 p.m. There will definitely be a performance, Burk said.
The flood could have been a disaster except that Hunter Doran and other members of the theater group were on hand getting costumes ready for the show's opening.
There was leaking as early as 3 p.m., Doran said, but water started to flood in at 8:30 p.m. That's when he called for help.
City fire responded with shop vacs and squeegees to help stem the tide and most of the water was dumped down drains by the time firefighters had to leave for another call.
"Hamlet" is part of Batavia Player's annual Shakespeare in the Springtime production. Besides the show tomorrow, there is one at 7 p.m. Saturday, at 2 p.m., Sunday and again at 7 p.m. on April 28 and 29. Tickets are $13 for adults and $10 for students and seniors.
Photo: Ed Canty finishes water cleanup in a hallway outside the theater.