August 8, 2015 - 9:06pm
Foxprowl Collectables celebrates five years in business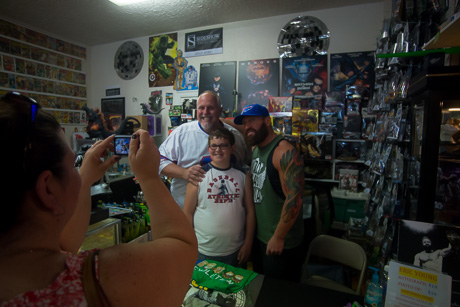 Brian Sandstorm and his son Luke pose for a picture with professional wrestler Eric Young today at the five-year anniversary celebration of Foxprowl Collectables on Ellicott Street.
In five years, owner Bill Hume has grown the inventory, the variety and the floor space of his store.
When I remarked, "you've come a long way," he said, "You know, passion and hard work. It's what I love."
In the seven-year history of The Batavian, this is the first time we've covered both the opening of a new business and its fifth anniversary.
Below, Hume with Young and Matt Troisi, owner of Limited Edition Collectables, who help Hume secure Young's appearance at Foxprowl today.