May 18, 2017 - 10:58pm
Garage fire reported on Ross Street, Batavia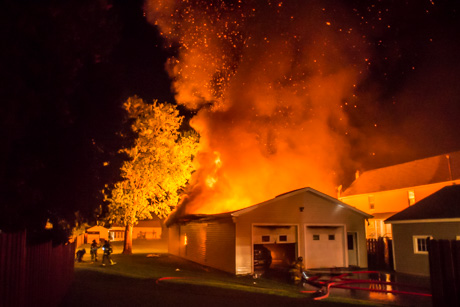 A garage fire is reported at 141 Ross St., Batavia.
City fire responding.
UPDATE 11:01 p.m.: City fire on location, smoke showing.
UPDATE 11:02 p.m.: Working fire, second alarm.
UPDATE(S)(By Billie) 11:14 p.m.: Fire is now coming through the roof and the south side of the garage.
UPDATE 11:26 p.m.: The structure is fully involved and flames are shooting at least 20 feet into the air.
UPDATE 11:34 p.m.: The chief on scene reports they're "making some progress" in getting the blaze under control.
UPDATE 11:38 p.m.: The fire appears to be knocked down pretty good; no flames are visible.
UPDATE 11:47 p.m.: Fire under control. Doing overhaul.
UPDATE 12:01 a.m.: City Fire Captain Dan Herberger said shortly before 11 p.m., the call came in for a garage fire on Ross Street. When they arrived a few minutes later, smoke was showing at the 25 by 60-foot structure. "It was a deep-seated fire with a fiberglass boat and several cars inside," Herberger said, adding that the presence of those vehicles amounted to a "tremendous load" for fueling the fire and that the garage was "very difficult to get in," and accessing it was "labor intensive." Firefighters got in through a front garage door; there were no other doors or windows. They had to cut holes in the rear and side of the garage to battle the blaze. The wind wasn't bad, but Herberger said there was "enough to knock smoke in your face and know it was smoke." The breeze also caused some concern about flying embers. The mission was accomplished in short order: "We deployed a line right away, got in right away away and put water on it."
UPDATE 12:50 a.m.: Elba and Town of Batavia Engine 24 back in service.