April 27, 2018 - 3:11pm
GCEDC hosts economic development walking tour of Downtown Batavia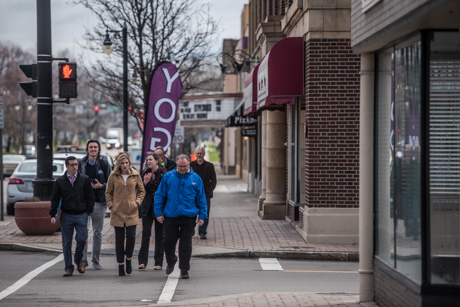 Staff from the Genesee County Economic Development Center hosted staff from Invest Buffalo Niagara and other interested local officials on a walking tour of Downtown Batavia yesterday afternoon.
Rachel Tabelski, marketing director for GCEDC, said Invest Buffalo Niagara is the marketing partner for GCEDC for all of its shovel-ready development sites.
"The tour helps make them more aware of the assets we have in our city," Tabelski said.
The tour started at Eli Fish Brewing Company, which Invest Buffalo Niagara visited last year just as construction was beginning. They then walked to the Old Courthouse for a proclamation ceremony. Next, they visited two of the potential DRI projects, the Masonic Temple and GO ART!.
The Invest Buffalo Niagara staff will use the information they gathered and the pictures they took to create digital media content that will be used to help market Batavia to businesses looking for site locations.