March 20, 2017 - 9:25am
GO ART! releases list of annual grant recipients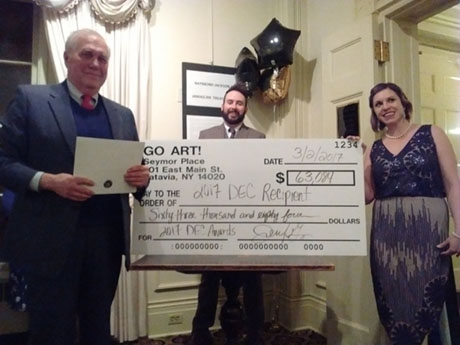 Press release:
2017 marks the 30th year that GO ART! has proudly administered the New York State Council on the Arts' Decentralization (DEC)  Regrant Program  in Genesee and Orleans counties. This program was initiated by the NYS Legislature to offer more artistic and cultural decision-making for state monies spent at a local level.

On March 2nd , GO ART! honored 24 grant recipients from across our two-county region. This year, 20 Reach Grants have been awarded to deserving nonprofits and local government entities who will provide cultural and artistic programming to benefit the local community. In addition, one Ripple Grant has been awarded to an individual artist to create a new work, and three Spark Grants (Arts in Education Grants) have been awarded to individual artists and nonprofit organizations, providing K-12 public school students and/or senior learners high-quality artistic learning experiences.                

With the honorees and GO ART! Board and staff, Sharon White representative of Stephen Hawley, Lynne Johnson, Vice Chairperson of Orleans County Legislature, John DeFillips, of Orleans County Legislature, and Gregg Torrey, of Genesee County Legislature, were treated to a vocal performance by the Genesee Chorale and local school music teachers, Lauren Picarro-Hoerbelt and Jennifer Neroni-Trupo.

 These are the 2017 DEC recipients:

 Orleans County

The Arc of Genesee Orleans, sponsored by Orleans County Chamber of Commerce (Open Mic & Art Show), $2,375
Lee-Whedon Memorial Library ("Finally Fridays!"), $2,800
Lyndonville Lions Club (Music Fun in the summer in Lyndonville), $3,800
Orleans County Chamber of Commerce (Traveling Towpath Troubadours: Bicentennial Celebration of the Erie Canal), $5,000
Village of Albion (Concerts on the Canal), $2,673
Village of Holley (Concerts at Canal Park), $1,000
World Life Institute Inc. (Voices from Earth: Pottery Experience in Orleans County), $4,908
Yates Community Library (More Than Just Books ),  $4,400

Genesee County

The Arc of Genesee Orleans (Art Show and Film Festival), $2,394
Batavia Concert Band (2017 Summer Concert Series), $4,250
Batavia Players (Summer Musical), $1,750
Byron-Bergen Public Library (Art and Music in the Community), $2,250
Genesee Chorale (Genesee Chorale 2017 Season), $4,000
Batavia Players (Spring After School Program), $1,427
Jill Pettigrew (NYS School for the Blind 150th Anniversary Permanent Ceramic Tie Mural), $3,559
Ted Canning sponsored by Genesee Symphony Orchestra (Steel Band Residency), $1,725
David Burke (Byron-Bergen Public Library Exterior Mural),  $2,500

If you enjoyed any of the events or public artwork created by the recipients, please note that the Decentralization Grant Program (DEC) is probably in danger of being cut or disseminated by Federal budget cuts that are being proposed. If you care about art and culture in your life at the grassroots level, let your legislators know that we need funding to continue to promote art and culture in our community.