July 13, 2016 - 2:07pm
Grass fire reported behind Harvester Center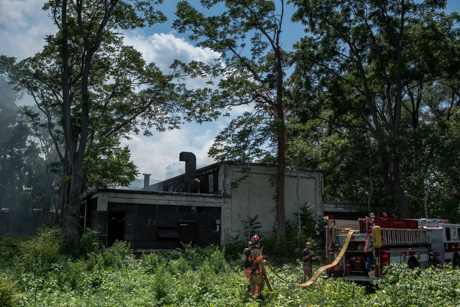 A grass fire is reported behind 56 Harvester Ave., Batavia, which is the Harvester Center.
City fire is responding.
UPDATE 2:10 p.m.: There is a report of flames coming through the roof of U.S. Chrome. There is black smoke in the area.
UPDATE(s)(By Billie) 2:19 p.m.: The fire may be in a building or buildings behind GCASA; possibly 21-22 Masse Place. The city's first platoon is called to stand by in fire headquarters.
UPDATE 2:25 p.m.: The fire is out. It did not get inside a structure. It was contained to grassy brush behind buildings on Masse Place.
UPDATE 2:34 p.m.: Tony Strollo, who works at Pinnacle Manufacturing Co. on Harvester Avenue, said he saw a grass fire about 12 square feet, and 12-feet high, approaching the building and he and plant manager Kelly Boyle used fire extinguishers to try and keep the blaze from reaching the building. "It was a big wall of fire," Strollo said. They went through seven extinguishers, keeping the flames at bay until the city fire crew could knock it down.
UPDATE 2:45 p.m.: Pinnacle CEO Diana Kastenbaum said she's concerned about first responders' ability to access the area, which is overgrown with weeds, grass and shrubs. "I saw police had come down Main Street first and then I saw the fire trucks at the corner because they couldn't get in here. Nobody can really get to it. This area should be cleared. I just think this is very bad. You can see how dry the grass is and how hot it is today." She called the property owner posthaste and aims to get him to clear the brush and haul it away in the interest of public safety.
UPDATE 3:55 p.m.: Chief at the scene, Capt. Craig Williams, says the initial investigation indicates sparks from Pinnacle Manufacturing Company's molten aluminum shop flew out open windows onto the grass, igniting the blaze.
UPDATE 5 p.m. (by Howard): Workers were able to see out the open windows and there were no people in the area, so cigarettes are not suspected. 
Because of the molten metal, firefighters had to be careful to keep water away from the building, setting up their lines to push the fire away from the structure. If water hits the molten aluminum it could potentially cause an explosion. Williams said firefighters were already well aware of that danger at this location. Williams said flames were at least 12 feet in the air and just a foot from the building when crews arrived.  
The biggest difficulty in fighting the fire was finding it. One truck went down Harvester and the other down Swan. Once they located the exact location, they were able to quickly put it out without damage to the structure. 
Code Enforcement Officer Ron Panek said the city will be looking at a possible code violation issue because of weeds exceeding 10 inches in height within 100 feet of the building. Kastenbaum said she has already placed a call to the property's owner raising her concerns.
The fire was in a pile of organic debris covering a mound of dirt. It covered about a 30 by 30 area, Williams said.