December 6, 2018 - 4:38pm
It's anybody's tournament with first-eight team format for Lions Club event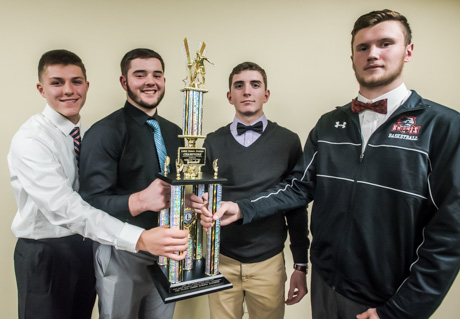 The Lions Club of Batavia is promising area basketball players a more competitive tournament with a revamped tournament format and for fans that should mean closer, more intense games.
The club has expanded the field this year to eight teams -- four teams in the small-team division and four teams in the large-team division. This should make games more competitive and lead to some potentially interesting matchups.
For example, if Batavia beats Roy-Hart in its first game it would face either Le Roy or Attica, teams that are natural rivals but Batavia rarely if ever plays.
Notre Dame and Elba have one of the most storied rivalries in the region and could potentially face each other in the championship game but both will face tough first-round opponents in Oakfield-Alabama and Mt. Morris.
"Our kids look forward to this tournament every single year," said Buddy Brasky, the Batavia head coach who will be taking a team to the tournament for the 29th consecutive year. "They talk about right from the get-go. They want to know when is the Lion's Club's Tournament? Who's playing? Who's in it? It's really important to them.
"We play in Monroe County so we don't get a chance to play the area schools very often. We see them in summer at camp. We play some spring league. They really look forward to playing the area schools, the tough area schools, in the Christmas tournament."
It's not a foregone conclusion, as it has been in recent years, that Batavia will be crowned champion. Brasky's squad has only five seniors and one of his biggest scorers, Antwan Odom, is out for the season because of legal issues. Brasky also said there have been some key injuries.
Roy-Hart comes from a tough Section VI and is coached by Joe Pawlak, Notre Dame grad who played in the tournament in 2008, with a loss to Batavia, so he knows what to expect.
"I'm really blessed to have been able to play in it and now coach it," Pawlak said.
If Batavia survives Roy-Hart, the Blue Devils will either face Le Roy or Attica.
Le Roy is anchored by four-year starter Reece Tresco, who is a 6-foot, 4-inch guard/forward who is a threat to score from anywhere on the court and tough under the boards.
Attica has 10 seniors on its squad and Coach Rob Crowley said with five or six big guys on the team and five or six guards, he will be able to play whatever brand of basketball an opponent puts on the court, adjusting his team's look to meet any challenge.
"We can mix in different brands of basketball and match every team and be competitive against every team," Crowley said.
In the small-team division, Mt. Morris is coming off a 15-win season and returning almost all its top players from that squad. Head Coach Brian Stout said he's expecting a quality year from his players.
They open against the Elba Lancers, always a tough squad and this year featuring one of the top players in Section V in 6-foot, 4-inch forward/guard Jon Boyce, along with returning stars Colton Dillon and Collin O'Halloran.
"I'm excited to see what his (Boyce's) senior season holds," said Elba Head Coach Ciaci Zambito. "We've gone from young and inexperienced last year to now one of the older teams experience-wise in the area."
Mike Rapone, Notre Dame's legendary head coach, said he's got the biggest team he's ever led. There are nine players on the roaster who are at least 6-foot, 1-inch tall, including 6-foot, 7-inch returning starting center Keith Szczepanski.
That is no guarantee of anything, however, Rapone said, especially after losing last year's two leading scorers.
"That (size) doesn't necessarily always translate into what we want it to be, but hopefully it will this year," Rapone said.
Oakfield-Alabama is a young team (only two seniors) with coach, Ryan Stehlar, so their tournament game will be a test and give fans some idea of what to expect on the season.
The Lions Club Tournament is played at Genesee Community College and that's one reason that the players who get to play in the tournament look forward to it. It's a big stage and prepares them for what they might face in post-season play.
It's also the premier fund-raising event for the Lion's Club, which is another reason you should attend.
The first four varsity games are Thursday, Dec. 27. 
Attica vs. Le Roy, 4 p.m.
Mt. Morris vs. Elba, 5:30 p.m.
Oakfield-Alabama vs. Notre Dame, 7 p.m.
Roy-Hart vs. Batavia, 8:30 p.m.
The consolation and championship games will be played Dec. 28, with consolation games at 4 and 5:30 p.m. The championship game in the small-teams division is at 7 p.m. Tipoff for the large-team division is 8:30 p.m.
Top photo: Frank Biscelie, Attica, Joe Martinucci, Batavia, Charlie Birgham, Roy-Hart, and Reece Tresco, Le Roy.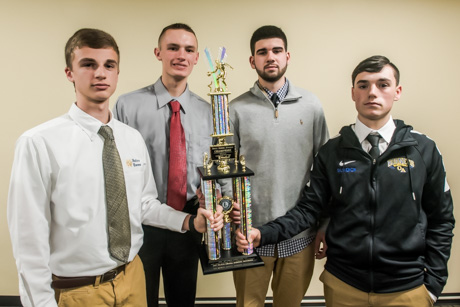 Spencer Misiti, Notre Dame, Jon Boyce, Elba, Cameron Regal, Mt. Morris, and Joey Burdick, Oakfield-Alabama.