June 23, 2016 - 10:22am
Muckdogs off to rocky start, but at least it's a start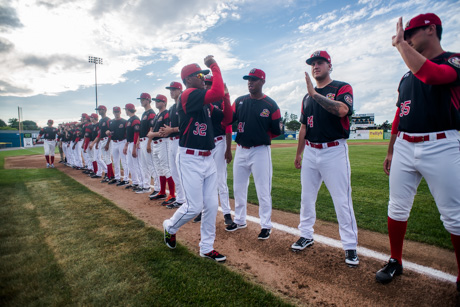 At least it was a beautiful night for baseball at Dwyer Stadium on Wednesday, even if the play on the field was a bit ugly.
The Batavia Muckdogs dropped their 2016 home opener 11-1 to State College, falling to an 0-6 start. But fans shouldn't be too discouraged. Today's roster of youngsters has yet to be supplemented by Miami Marlin draft picks. The season should get progressively better, as they usually do under Muckdog's manager Angel Espada.
On a night that could, maybe, be the last home opener for one of the New York Penn-League's founding franchises (but that's true every year these days), the team tapped its rich history and its ties to the community by having Jerry Maley, a lifelong Batavia resident who made his professional debut with the local team in 1948, throw out the first pitch.
The Muckdogs try again tonight at Dwyer Stadium. Game time is 7 p.m. More good weather is expected.