February 9, 2016 - 9:52am
ND Cheer wins Division II competition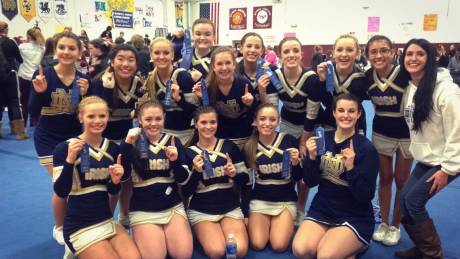 Press release:
On Wednesday, February 3, the Notre Dame Varsity Cheerleaders took first place for Division II in the Genesee Region League Competition, hosted at Byron-Bergen High School. The 14-girl squad, coached by Megan McNally, competed against Elba, Kendall, Wheatland-Chili, and Lyndonville high schools.
It had been five years since ND Cheerleading last earned the Genesee Region League Title, and was an experience the entire team had been working toward. This goal was especially strong for senior captains Cindy Skalny and Shelby McGinnis. "This has been a dream come true for Shelby and me," said Skalny, who has competed in four GR competitions to date.  "This win was a combination of all of our hard work and we did it!"
After coming off a less-successful competition at Victor the week before, the squad improved their routine score by over 20 points to solidify the League title. Their hard work is far from over though, as the team prepares for the Section V Competition held at RIT on February 27.
Scores:
Division I: Byron-Bergen 91.45, Attica 86.6, Holley 86.3, Pembroke 79.6, Alexander 67.5, Oakfield-Alabama 66.3
Division II: Notre Dame 81.15, Kendall 73, Wheatland Chili 66.8, Elba 66.25, Lyndonville 33.5