November 23, 2016 - 1:55pm
New store hosts kickoff party for new lines of p.w. minor shoes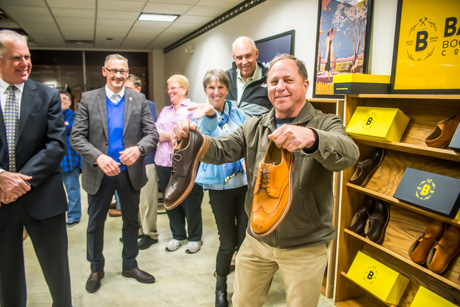 Batavia-based p.w. minor held an official kickoff party for its two new lines of shoes on Tuesday night in the future home of its new retail store, the former Chamber of Commerce headquarters on East Main Street.
Sen. Mike Ranzenhofer and Assemblyman Steve Hawley were both in attendance and they tried on some new shoes.
The new shoe lines are Abram Boots, an affordable, steel-toed work boot, and a line of higher end men's fashion shoes, under the brand of the Batavia Boot and Shoe Company.
The store will be a joint venture between p.w. minor and Charles Men's Shop, run by owners Dave Howe and Don Brown.
Next year, p.w. minor will celebrate its 150th anniversary. It recently moved all of its production back to Batavia from China and the new store will stock only American-made products.
Howe said owner Pete Zeilff, his family and the rest of the team at p.w. minor have done something a lot of people talk about but few do: make a real investment and commitment to the local community.
"I will tell you," Howe said, "we need your commitment as a community to support us. We're hoping for a partnership that everyone can be proud of."
Brian Benedict, the new director of sales for p.w. minor who was lured from a good job in Chicago to return to his hometown and work for Zeliff, said he's amazed at how far p.w. minor has come as a company in a short time and that he's excited about the potential of these shoe lines.
"We have 86 people employed at p.w. minor, so when you buy a pair of shoes, a pair from the Batavia Boot and Shoe Company, seven people touched that shoe as it goes through production," Benedict said. "And, 94 percent of our employees live in Genesee County. It's not buying an American-made shoe. You're buying a shoe from people who are your neighbors, your friends, people you see in the street, you see at Tops.
"If you buy two pair we can actually hire more people," he added, which got a laugh from the invited guests in the room.
The kickoff party is the first of six such events over the next couple of months, including a factory tour and chance to check out the new shoe lines at the factory in late December. The invited guests for that event will be people who have liked p.w. minor on the company's Facebook page.
Zeliff said he doesn't think he could have better partners for this venture than Howe and Brown.
"I had to learn a new profession (in taking over p.w. minor) and a new way of making a living over the past two years," Zeliff said. "I really didn't think I would do that at my age, but I really didn't want to learn another one doing retail, so Dave and Don are great people to partner with. I'm happy we're able to do this with them."
Howe has been in the retail business for 50 years, and owned Charles Men's Shop for 31 years, a business that has been in Batavia for 70 years.
The new shoe lines were developed by Kristine McCarthy, a graduate of Batavia High School, who returned home after working in New York City, to join the team at p.w. minor.
Zeliff said he's excited to reach this point of growth for p.w. minor. He sees bright days ahead.
"We've finally turned a corner and we've got a new product out," Zeliff said. "We've got a lot of exciting things happening. I think in these next 12 months will really be the turning stone for us to become a proftable company again and grow more."