October 21, 2015 - 3:45pm
O-A sophomore's learning about STEM with the expectation more high-tech jobs coming to Genesee County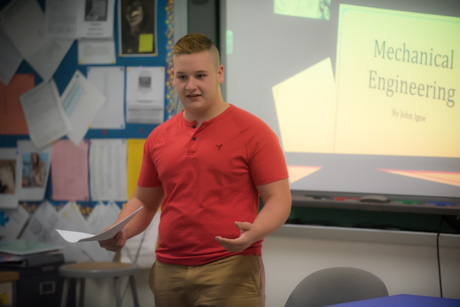 Before the start of the school year, John Ioge figured he was interested in a career in civil engineering, maybe mechanical engineering or perhaps the medical field or even teaching. Whatever it was, he figured he would eventually wind up in a job far from home.
Now, the sophomore at Oakfield-Alabama is honing in on a career in mechanical engineering and feeling pretty certain he will be able to find work in Genesee County.
The developments recently with WNY STAMP as well as a new course at O-A in STEM is driving much of John's change in thinking.
"I now realize there are going to be jobs in this area," John said. "At one point, I didn't think I was going to stay here because there's not any jobs, but now there will be jobs at home. So why not stay home? Why not stay where my family is?"
O-A Principal Lynn Muscarella sought to start the STEM courses (Science, Technology, Engineering and Mathematics) for students just like John. She realized that with STAMP coming to Alabama, she wanted to make sure Oakfield-Alabama students had a good grasp of career opportunities in STEM.
"Last year I had seniors who weren't even aware of what is happening in their own backyard," Muscarella said. "I said, I can't allow this to happen. These kids are right here, so why not get them somewhat prepared to think about what's going to be here so they can stay if they want to."
STAMP stands for Science, Technology, Advanced Manufacturing Park, a 1,340-acre parcel in Alabama that the Genesee County Economic Development Center and its economic development partners from throughout the region are marketing as an ideal location for high-tech manufacturing.
Two weeks ago, Gov. Andrew Cuomo was in town to announce the first new development in the park, 1366 Technologies, a Massachusetts-based company that will construct a new plant to make silicon wafers for solar energy panels. The plant will employ from 600 to 1,000 people once fully operational, perhaps as soon as early 2017.
The STEM classes at O-A are part of the sophomore-year curriculum for the first time and will run throughout the school year with classroom time every other day for the participating students.
The instructors are Kathy Rushlow and David Porter, with Rushlow developing most of the course.
Seven weeks after the start of the school year, Rushlow is seeing some progress among her students, many of whom came to class without a clear understanding of what sort of degrees colleges offer and what their post-high-school educational options are.
"I think they are much more aware of what STEM is and what the different career choices are in the STEM field," Rushlow said. "I think that's been eye-opening."
The classes aren't intended to give students any kind of training that will lead them to a particular job; rather, it's an overview to expose them to the array of options available to them if they decide STEM might be something of interest.
The class also reinforces the importance of the other coursework in high school.
"It's surprising to them to see there's a second side to that coin, that even in the medical fields, they need that science and math, that background, on top of the medical information," Rushlow said.