January 23, 2017 - 9:26am
O-A student says hearing Trump's speech in person, 'something I will remember forever'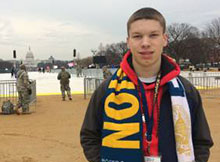 On Friday, we told you about Trevor Maier, the 10th-grade student at Oakfield-Alabama High School who traveled to Washington, D.C., as part of the 2017 Envision Presidential Inaugural Leadership Summit, which included going to the National Mall for the inauguration of Donald J. Trump as the 45th president of the United States.
Here's Trevor's write-up of his experience in our nation's capital.
This past week I had the chance to participate in the experience of a lifetime. The 2017 Envision Presidential Inaugural Leadership Summit was attended by nearly 2,500 students from the United States and other countries from around the world. Carpe Futurum…Seize YOUR Future, was the theme of the summit. We learned that we can all be agents of change if we work and apply ourselves. My target group reviewed the topics of Drones, Clones, and Genomes. Technology is moving faster than ever and as a society we need to remain aware of the advantages and potential consequences with this progress.

The Summit also included well-known speakers like General Colin Powell, Spike Lee, Tucker Carlson, Gov. Martin O'Malley, Carly Fiorina and Abby Wambach. Each speaker gave an inspiring talk. They all discussed the importance of education.

But by far, my favorite part of the conference was attending the presidential inauguration. The security checkpoints required the group to arrive before sunrise. As we passed from one section to another it was apparent that every measure was being taken to keep this event safe. The wait didn't seem to take as long as I thought. The inauguration was an extraordinary experience. The National Mall was filled with thousands of people and there was excitement in the crowd. Everyone cheered as the 45th President, Donald J. Trump, was being sworn in. My favorite speech of the summit was the inaugural speech given by President Trump. It was inspiring and hopeful, and being able to hear it in person is something I will remember forever.

I am very happy that I was able to attend such a historic event. As an American, I would recommend everyone go see the inauguration in person at least one time. It is something you will never forget.