Image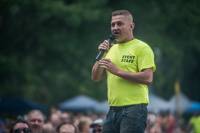 These are times that reward cynics.  Every news cycle brings some new outrage, disappointment, or worry.
But America isn't a complete mess.  As long as people like Jesse and Jolene Coots are in the world, we'll be alright.
Jesse and Jolene own a few acres on Linwood Road in Pavilion where they raise their kids and operate their businesses.
More than a dozen years ago, they decided to invite a few friends over who share their passion for hot rods (Jesse operates the Old Soul Hot Rod Shop in a garage behind their house) to burn rubber on the asphalt of Linwood Road.
At most car shows, it's "look, don't touch," and keep the noise and dust to a minimum, please.
Jesse figures hot rods are built to run. They may be art but they're not museum pieces.  So he decided a few years ago to let his friends run their rods on his street.
The concept proved popular and the event has grown every year since (he's now built a driveway for burnouts so the public street is no longer used).
When I first heard about the event in 2019, Jesse said there were 2,000 people in attendance.  This year, he said 3,000.
---
See also: Photos & Video: The 2022 Hardcore Happening in Pavilion
---
Perhaps the most remarkable part of the Happening is how smoothly the operation goes.  Jesse's staff -- and it's a big staff -- is all volunteer.  They chaperon the attendees, feed the throngs, and keep everything running smoothly.
The beauty of it all is how fun and friendly the whole event is.  Jesse brags every year about how little trouble there is.  After everybody leaves, there won't be a beer can left on the ground, he says.  People help each other out.  One year, somebody who had never attended before showed up sans a cooler of beverages. They didn't go thirsty.  Their new friends kept them hydrated.
One reason it all holds together is Jesse has a few rules -- he says there's only one, just be kind to each other.  But on his social media posts, he lets guests know in clear, straightforward language what's expected.  The gates open at 1 p.m., not 10, for example.  And no pets.
And, "-Everyone's car is special. If yours is so special that you need to park and rope it off, leave it home and just come enjoy the show… "
Also, "This is my home and place of business. This is my children's home and my wife's castle. We welcome you, we love you. Love us back and watch over our place, pick up after yourself, and don't be a scumbag. You will get called out by everyone. This crowd follows suit and doesn't tolerate people being scumbags. Be good, we will treat you good."
Oh, did we mention, "NOT PETS!!"
One thing I like -- it's not a rule -- it's not even anything I've known Jesse ever to request, but I've noticed: There's no politics. I've never even seen a political t-shirt worn by an attendee let alone heard a political discussion.
That helps keep that no discord, no rancor feeling in the air.
As Jesse says, if you love cars, regardless of who you are, your background, or your beliefs, you're welcome.  He wants you just to come, have fun and make new friends.
After I left the Coots homestead on Saturday, a lot of the burdens I might have carried there seemed to have magically disappeared by the time I left.  That doesn't often happen in my job.
There's something special about the Hardcore Happening.  Sure, I like hot rods and classic cars, but not like Jesse, not like his closest friends, not like most of the people at the Happening.  I'm not an aficionado. The event is fun to video record and photograph -- it's a visual treat -- but that is not what is special to me about the Hardcore Happening.  What's special is that vibe -- it's hippie-like simplicity and happiness. I halfway expect peace signs posted around the property.  There's more kindness in the air than there is burning rubber and gas fumes.
Now that I've known Jesse for a couple of years, I think I know why that is -- he is contagiously friendly, open, and welcoming.  He wants the best for everybody around him. 
And this is what's special about small town life.  There are people like Jesse and Jolene Coots around.  There are a lot of good people in Genesee County, and in my job, I'm fortunate to know many of them, but it is events like this that should remind us that no matter how bad it gets out there, it's good right here.