August 26, 2017 - 4:39pm
Photo: Doggie Day at Dave's Ice Cream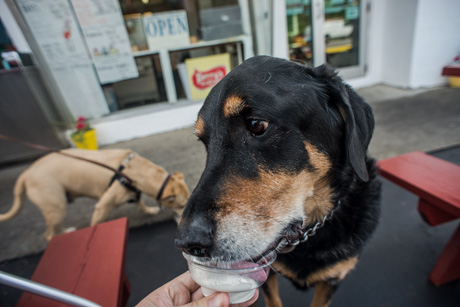 Today is National Dog Day and so it was DoggieDay at Dave's Ice Cream on West Main Street Road, Batavia.
Dogs got free ice cream. It was also a fundraiser for Volunteers for Animals with hot dogs and soda.
Some readers may remember "Pachuco," who was our "Pets columnist" back when we first started and ran an adopt-a-pet column. When we first moved to Batavia in 2009, that first summer, we took Pachuco to Dave's on Doggie Day. Pachuco is nearly 10 years old, which is elderly for a dog his size. This is probably his last Doggie Day.
In the background, Rocky, who is doing very well.