November 20, 2015 - 9:13am
Photo: Jackson students decorate tree for Wonderland of Trees at HLOM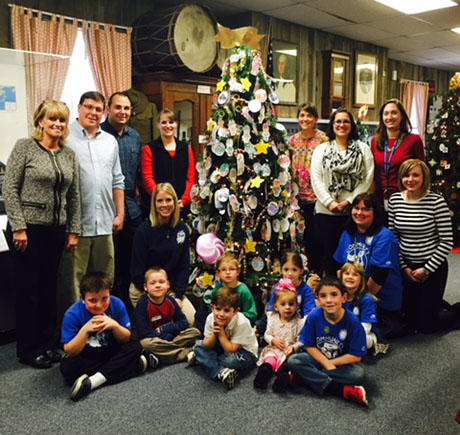 Photo by Nicole Tamfer; info submitted by Diane Bonarigo.
Jackson Primary School students and staff decorate Jackson's Community Caring Tree for The Wonderland of Trees at HLOM. Jackson students created ornaments in Art class of many different people and organizations that help the school each year. Some of the ornaments included, firemen, police officers, volunteer readers, military personnel, bus drivers, dentists, Cornell Cooperative Extension reps,  and JAHA.

The students were reminded through this project how much the Batavia Community cares about the children. (First picture) Brock Bigsby, Nolan Wright, Connor Malone Wesley Fisher, Carleigh Miller, Ryan Bigsby, Lauren Nelson,  and Reese Koukides, Mrs. Bonarigo, Mr. Sloan, Mr. Calandra, Mrs. Mundell, Mrs. Koukides, Mrs. Nelson, Mrs. Clark, Mrs. Tamfer, Mrs. Bigsby, Mrs. Torrey.
The Wonderland of Trees opens tonight with a gala starting at 7 o'clock.