April 11, 2018 - 11:43am
Sunday night class helps immigrant parents learn English, become part of the community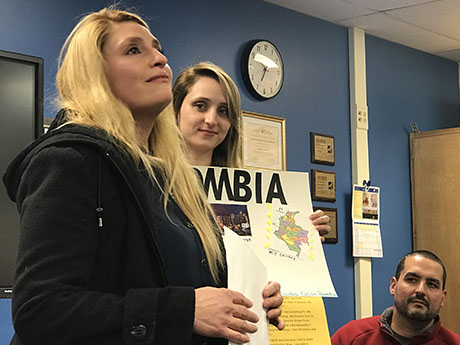 When the children of Claudia Celia Rincon Pico and Loan Trang entered Batavia City Schools a few years ago, neither mother spoke a word of English.
On Tuesday night, both mothers spoke to City School Board members to demonstrate how a special Sunday night English class led by Jenna Mrzywka and Courtney Turner has helped them improve their English.
Mrzywka, an English as a Second Language teacher at Jackson, and Turcer, an ESL teacher at Batavia HS, started the Sunday adult English night class on their own (it's now supported by the district) two and a half years ago.
"They're new to the community and a lot of times when someone is new to a country they feel there are cultural and language barriers so they don't always come into the school," Turcer said. "This is a chance to bring parents into the school building and a chance for kids to help their parents and it's a way for them to make friends and get roots in the community. They know English is important so it's a way for them to help themselves."
Rincon Pico and Trang have been part of the program since its inception, though Trang recently opened a nail salon in Erie County and now lives in the Pembroke Central School District, where her son attends school.
Rincon Pico is from Colombia and Trang is from Vietnam. Turcer said ESL students tend to be predominately Spanish-speaking, though Chinese is often common, but students have come through speaking other languages, including an Indian language and French. When she started with district five years ago there were 13 or 14 ESL students, she said. Today there are 40, including 10 at the high school.
Both Mrzywka and Turcer have built solid relationships with parents in the class, which makes it easier to help them deal with school work for their children.
They also said the parents, despite often coming from different countries and cultures, build lasting friendships among themselves.
The non-English population in Batavia is fluid, Turcer said, so there is some fluctuation in class size. Currently, there are five adults in the class. There have been as many as 10 and as few as two.
Adult students start with the basics, learning their ABCs, and move onto personal identification, food, and household items.
In their presentations, Rincon Pico and Trang shared about their home countries, what their interests are, and their favorite dishes from their homelands. Interestingly, both dishes, though very different, featured pork, rice and peppers.
Trang said she was grateful to the Batavia district for all it had done for her and her family.
"I love to become an American," said Trang at the close of her talk, who also noted one of her favorite holidays is the Fourth of July. "I love it here and I love America."