June 2, 2016 - 4:41pm
This is a time to be optimistic, says regional director of Empire State Development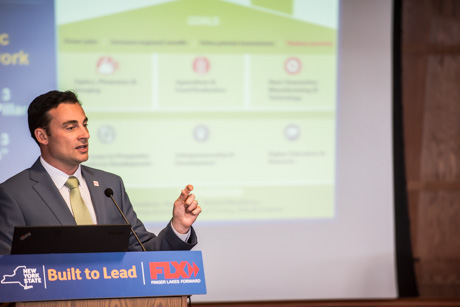 A roomful of business and community leaders heard today from Vincent Esposito, director of Empire State Development's Finger Lakes regional office, as he talked about the economic development opportunity and effort both regionally and in Batavia.
The gathering comes prior to meeting at 6 p.m. Tuesday at City Hall were officials will discuss Batavia's application for the Downtown Revitalization Initiative, which is a regional competiton with a $10 million prize. CORRECTION: It's at 5:30 p.m., Monday, at the Generation Center.
Batavia has a good shot at the prize because of all the work already put into improving Downtown, most notably the Batavia Opportunity Area, which has 10 brownfield revitalization projects already in the pipeline.
The Finger Lakes Region has already been a big winner in a statewide competition fro regional economic development areas, receiving a grant of $500 million from the state for projects in the region.
There are three main areas of focus for those funds, Esposito said:
Eastman Park in Rochester;
Downtown Rochester; and,
The STAMP project in Genesee County.
About 50 percent of the $500 million are going to projects in Monroe County, Esposito said, and the rest is spread out in the other county's in the region; however, about two-thirds of that 50 percent is going to Genesee County, he said.
The primary goals of the Finger Lakes regional office is job creation, regional wealth creation, increase private investment and reduce poverty.
In the past five years, economic development activity has created 20,000 new jobs, he said.
The projects expected over the next five years, he said, will result in $6.4 billion in private investments and a conservative estimate of 8,200 new jobs.
"We want to keep that commitment low and then over deliver," he said.
The main economic engines in growth for the region he said are optics/photonics, agriculture and food processing and high-tech wafer and chip manufacturing.
The third area is where GCEDC's STAMP project comes in and why it's attracting a big chunk of the funds from the Finger Lakes Region.
"If ever there was a time to be optimistic about your future, this is it," Esposito said.