November 25, 2016 - 3:24pm
Torreys right back to work packing onions day after devastating fire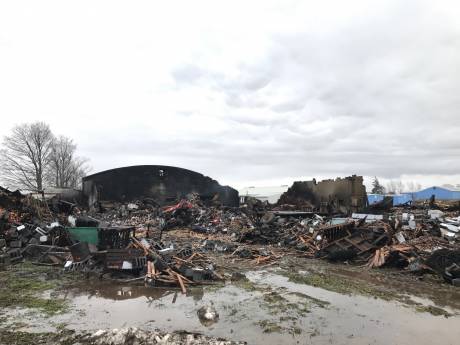 In farming, there's little time to dwell on losses and already the Torreys are moving on after a fire caused more than $3 million in losses to their Big O Farms onion packing and storage facility in Elba yesterday.
They're still shipping onions from two other facilities they own and making plans to replace the equipment lost in yesterday's fire.
"That's what we've got to do," said Mark Torrey, who stopped by the scene of the fire at 5520 N. Byron Road this afternoon to meet an insurance adjuster. "That's what keeps you going today. We got up this morning and had to figure it out. We had loads we had to get out today. We had to figure out how to get them out. We actually started working on that yesterday afternoon."
There were three lines of onion-packing equipment in the building, Torrey said. Some of the equipment was installed within the past year. The property is assessed at more than $400,000 and each line costs more than a half-million-dollars each.
"It's not something you can just buy off the shelf," Torrey said.
Most of the equipment is manufactured in Europe, so even if suppliers have already assembled the parts, it will take some time to get everything to Elba and get it installed.
Meanwhile, the Torreys still have onions from this season's crop to get to market and some 70 employees to keep working.
A few employees posted on Facebook about how sad they were about the fire and praised the Torreys as good people to work for.
"A lot of these people have worked for us for a long time," Torrey said. "They're working in the other places (today), but yeah, we've got a lot of good employees and you try to treat them right."
The fire may have started with a tractor that was stored on the southeast corner of the building and had its engine block plugged into an electric socket to keep it from freezing. Nearly every fire department in the county, along with companies from Monroe and Orleans counties, responded to the Thanksgiving Day fire. There is reportedly a community effort underway to organize an event to recognize the volunteers.
Local contractor Vito J. Gautieri also was at the facility today. He built the plant in 1958 for the Ognibene family. He came with a model of a truss used in the main arched barn. The county's online property database doesn't list the size of the facility. Gautieri said it was greatly expanded from what he originally built, but he estimated the entire space to be about 25,000 square feet.
"It's the first building I ever built that burned down," Gautieri said.
Torrey acknowledged it's a difficult loss, but that the business will continue as usual.
"This is a big set back, but we've still got people, we've got product we've got to pack," Torrey said. "You've just got to get doing it and that sort of keeps your mind off of this today."
Previously: