August 6, 2018 - 11:40am
Trailer fire reported off Route 20 in Pavilion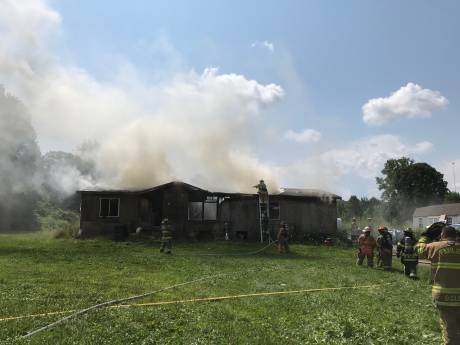 A trailer, believed to be vacant, is reportedly on fire at 7230 Telephone Road, Pavilion.
Pavilion fire and Le Roy fire dispatched. Mutual aid requested from Caledonia.
UPDATE 11:43 a.m.: There are pets in the structure.
UPDATE 11:44 a.m.: Heavy smoke, no flames showing, "but there's definitely a fire. It's going to be defensive by the time we get here." The owner reportedly just went inside. 
UPDATE 11:45 a.m.: Owner is out. Going to a second alarm. This is a trailer park.
UPDATE(S) (By Billie) 11:48 a.m.: This is a working trailer fire. The city's Fast Team, Bethany, Stafford, Perry Center, York and Wyoming are also called; "exterior only"; Perry to fill at Pavilion; medics called in non-emergency for rehab.
UPDATE 11:51 a.m.: The city fourth platoon is called into headquarters.
UPDATE 11:55 a.m.: "The owner is running up the road."
UPDATE 11:57 a.m.: Traffic police are requested to the scene by command.
UPDATE 11:59 a.m.: "All units go defensive," says command.
UPDATE 12:11 p.m.: Le Roy fire's auxiliary is requested to bring refeshments to the scene.
UPDATE 12:25 p.m.: Four pet dogs were safely rescued from the burning trailer.
UPDATE 12:39 p.m.: Five dogs have been rescued: Rosie, Penelope, Mac, Jack and Snoopy. A sixth dog, Lucky, is missing. Two cats are also missing, but the owner believes they may have escaped through the doggie dog and ran off.
UPDATE 1:01 p.m.: A total of five cats are missing. There were six dogs, five cats and four people living in the trailer. Five of the dogs are accounted for.     The people either got out or were already out when the fire occurred.
UPDATE 1:44 p.m.: Pavilion Second Assistant Chief Don Roblee said: the whole building -- a double-wide trailer with no cellar -- was involved by the time he arrived on scene. Nobody was home. A couple of portable air conditioners were turned on. There was no gas line to the trailer, but there were a couple of small propane tanks that "were just poppin'." National Grid cut power to the structure. "The lady of the house got there pretty quick and was just screaming to get her animals." Initially six dogs were trapped inside. "They made a good rescue." Five dogs are accounted for; a dog named Lucky got out but has not been located. Although five cats were also kept as pets there, Roblee says "they never told us anything about cats. We never saw any cats. They propably got out and are running around." The fire appears to have begun in the living room, spread to the kitchen, then back to the bedrooms. The ceilings and roof were collapsing and the fire was fought defensively from the get-go. The trapped dogs made their way to a back bedroom, called there through a window by firefighters. They were then rescued. "Good size dogs, beagles, too, Jack Russells." Eight fire companies from three counties -- including mutual aid from Livingston and Wyoming counties -- fought the blaze. "They're doing a pretty good job." It went to a second alarm, Roblee said, because they needed enough firefighters ready to relieve those who needed rehab. Fighting a fire wearing 150 pounds of clothing and gear, plus air packs in hot weather quickly dehydrates a person. Pavilion doesn't have an auxiliary any longer, so Le Roy's was called in. The trailer is a total loss. They are "drowning" hot spots now and will conduct an investigation.