August 6, 2015 - 11:34am
You can Chalk the Walk during Summer in the City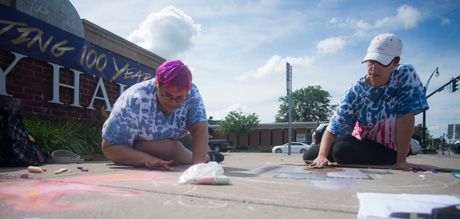 Gena Korn and Jennifer Gray are creating a bit of chalk artwork in front of City Hall this morning to help promote GO ART!s Chalk the Walk event Aug. 15 during Summer in the City. (Photo by Howard Owens).
Press release:
GO ART! will be presenting the second annual Chalk the Walk on Aug. 15th from 9 a.m. - 6 p.m. during Summer in the City. Artists, professional and amateur and young and old, will be able to purchase a square section of concrete by the City Center to decorate with chalk pastels. There will also be a children's section for fun scribbling.

Using materials available, artists will follow the theme "GO ART!...Where does art take YOU?" to create inspired pieces for a crowd of more than 2,000 people. Prizes will be awarded to those whose pieces are most outstanding. Adult First Prize will be $250. People's Choice Award will be a $20 Alex's Place gift card, two T-shirts, and two mugs. The Youth Prize will be a basket of goodies worth over $50.

A jury will select the winners for Adult First Prize and the Youth Prize. People's Choice will be chosen by the general public by way of donation voting (ie: the art piece that receives the most donation money will be the People's Choice winner). All donations collected for the People's Choice Award will go to funding GO ART! youth programs.

To sign up for this event, people need to register online at http://www.goart.org/chalk-the-walk/ or register in person at GO ART!, 201 E. Main St., Batavia, from Tuesday through Friday between the hours of 9 a.m. and 4 p.m. People can also sign up and pay the day of the event but it is highly encouraged to do so ahead of time.

Remember, no one is officially registered until payment is received. Fees are $20 for adults (18+) and $10 for Youths (17 & under). Every registered artist will receive a box of chalks and a drink to get them started. There will be a chalk swap area where people can trade out their chalks for other colors they need. Artists are encouraged to bring their own chalks as well.

It is important to assure that each artist and their work, as well as the event itself, is respected, so there will be rules and regulations. These are available on the Web site at athttp://www.goart.org/chalk-the-walk/.

People can find updates on Chalk the Walk by going to the Web site:http://www.goart.org/chalk-the-walk/ or by following Chalk the Walk on Facebook:https://www.facebook.com/BataviaStreetPaintingFestival.

Please consider participating! It's going to be a great event! If you have any questions, please feel free to phone 585-343-9313 or visit [email protected].