May 1, 2012 - 11:50pm
Batavia district pitches budget with a nearly 2-percent increase in the tax levy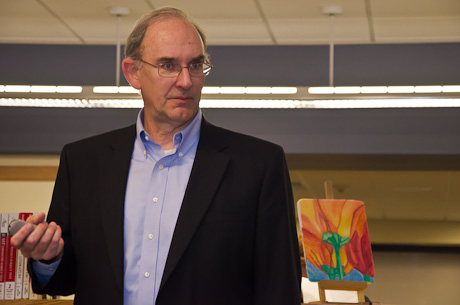 Voters in the Batavia City School District will be asked to approve a 1.99-percent increase in the tax levy May 15, Superintendent Margaret Puzio said Tuesday following a public hearing on the proposed 2012-13 school district budget.
The budget -- at least on paper -- increases spending to $40,086,732, up $720,687 over the previous year.
But Puzio said the increase can really be attributed to changes in accounting rules.
In fact, district spending will decrease, according to Gary Stich (top photo), who made part of the budget presentation.
The 1.99-percent increase in the levy is still well under -- according to state formulas -- the property tax cap. The district could have increased the levy by 2.59 percent and still been below the cap, Puzio said.
The budget will include an allocation of $330,000 in anticipated state aid to cash reserves, which have beed depleted in recent years because of increased mandated costs and less state aid.
At one time, the reserve was $1.5 million. This year it dropped to $55,000.
The reserve is necessary to help cover expenses when there's no revenue coming in during the summer months, or to deal with budget-breaking, unannounced cuts in state aid, which has happened at least once in recent years.
One of the biggest mandated expenses for the district is payment into the state's teacher retirement fund, which in recent years has gone from a $916,000 contribution to a $1.9 million contribution.
"That's almost $2 million in expense and it has a huge impact on the district," Stich said. "Again, we have no control over it."
About 45 percent of the district's funding comes from state aid, and another 45 percent from local taxes. 
Last year, a big part of the difference was made up by dipping into reserves.
The district will realize cost savings this year from school consolidation, Puzio said.
At the same time, the distirct is restoring some programs cut in the past year, include the Accelerated College Enrollment (ACE) program and some music programs.
To help students compete in the fast-evolving job market where written communication skills are more critical than ever, the district will focus more education resources on core state standards, which means more text study in all classrooms.
New teacher and principal accountability standards are also being implemented, by state mandate, including a requirement that principals spend 70 percent of their time with teachers in classrooms.
Also on the ballot May 15 is a measure to change student transportation rules, putting all middle-school students on the same transportation eligibility standard.
This will mean an additional 120 students will be eligible for bus transportation, but only about half of the current eligible students use school transportation, so the district doesn't know yet how many new riders will use the bus.
The change is necessary because of the school consolidation plan.
There are also five candidates in the election for three school board positions. The candidates are Gretchen DiFante, Phill Ricci, Gail Stevens, Gary Stich and Dennis Warner.
Polls on May 15 are open from 7 a.m. to 9 p.m. and locations are John Kennedy Elementary School and Batavia High School.