July 19, 2013 - 11:20am
Big task complete, history department settles into new digs at County Building #2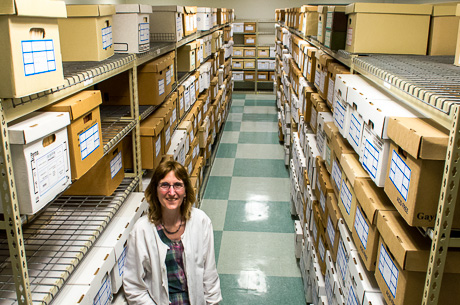 It was a lot of work, says Sue Conklin, county historian, for facilities management staff to move all of the county's archives and historical documents from the old firehouse on West Main Street to County Building #2.
The staff moved:
1,690 archival items in 575 boxes
The research collection of 3,082 books and 666 notebooks
519 bound volumes of newspapers
7 large wall maps, 19 pen and ink drawings, 19 watercolors and 30 framed photographs
39 filing cabinets and 3 map cases
Plus staff had to disassemble and reassemble 21 bookcases, 23-foot-long newspaper shelving and all of the shelving for the county archives.
The whole move took more than two weeks.
"Now that the relocation has been completed the county historian is happy to report that all items made the move, nothing was damaged or lost," Conklin said. "Somehow facilities management managed to move on sunny, dry days, too. It was a great effort and the result is one the county will benefit from for generations."
The move gives the history department a little more space and gets irreplaceable documents out of the flood plane.
The department is responsible for storing all of the county's critical documents, from court cases to financial documents, with state-mandated document retention policies -- depending on the document -- from seven to 80 years.
At the rate documents come in, Conklin anticipates running out of space in about seven years.
The new layout -- in space once ocupied by the BOCES nursing program -- allows for easier access and better display of the county's archival records than the old location. The research library has more space and makes it easier for researchers -- including those in wheelchairs -- to move around.