February 28, 2015 - 11:57pm
Byron-Bergen tops Notre Dame in hard fought girls hoops playoff game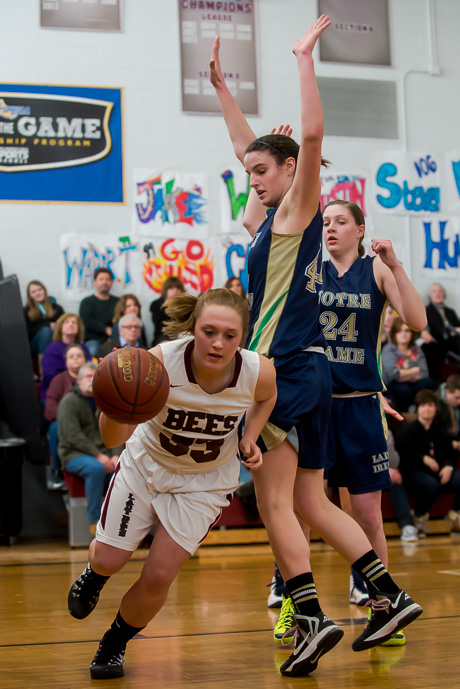 It was a nifty little move under the basket, a no-look reverse layup from Byron-Bergen's Abbie Kelley. The kind of play good players make.
In this case, it couldn't have come at a more opportune time. Head Coach Rick Krzewinski said it was perhaps the difference maker in the game.
The Lady Bees got to that point by allowing Notre Dame to go on an 11-0 run at the start of the third quarter to erase a 10-point lead for Byron-Bergen in the Section V Class C1 playoff game.
The reverse of fortunes had a familiar ring to the Bees, who lost a home game earlier this season to the Fighting Irish after blowing a first-half lead.
Krzewinski told his players in the locker room at the half, "looks familiar doesn't it?"
One of his girls said, "don't even talk about it."
"Oh, we're going to talk about it," Krzewinski told his team, "because we're not going to let happen what happened last time."
The Bees apparently got the message, and Kelley's nifty basket provided the spark they needed to beat back Notre Dame's momentum.
"Players make plays and that was the perfect time for it," Krzewinski said. "We got our composure back, I thought, and started hitting some shots."
That basket and a three possession change of defense to a 2-3 zone, seemed to break the rhythm of the Irish girls.
Kelley, who has 393 points on the year, did more to carry her team than drop that one score. She was the game's leading scorer with 23. Nobody else on her team was in double digits.
"Today was Bergen's day," said Irish Head Coach Dave Pero. "In the fourth quarter, Abbie Kelley took the game over. We missed way too many free throws. We probably missed 14 free throws (10, actually) and in sectional play, in any game, you can't miss 14 free throws and think you're going to struggle to win. Sometimes you'll get lucky, but the luck of the Irish wasn't with us today."
B-B's diamond defense held Notre Dame's top two scorers to totals a shave below their season PPG averages. Becca Krenzer had 12 points and Shea Norton, 11.
Emma Francis didn't hit a single three and was held to seven points for the game.
"We had the shots we wanted," Pero said. "You have days when they're not going to go in and today was one of those days. But we fought to get back in third quarter and I don't know if we ran out of gas a little bit, we might have, but I've got to take my hat off to Bergen. They played a great basketball game. They played for 32 minutes and that's why they're moving on and we're not."
The Bees had 13 days off before the game and Krzewinski said the team used that time to work on the diamond defense thinking it would be effective against Notre Dame.
"We were hoping maybe we could force some turnovers, worst case maybe slow them down," Krzewinski said. "I thought the girls worked it well and the message was, it will work if you move and they moved. We got out of it what I wanted."
It's been 2008 since Byron-Bergen beat Notre Dame in a girls basketball game, and the Irish seem to be a chief rival for just about every team they play.  The win certainly made Bees fans happy, who whooped it up in the closing seconds of the game.
"Yeah, everybody wants to beat Notre Dame, obviously,"  Krzewinski said. "Year in and year out they're a team that everybody wants to beat and to be able to do this in a sectional game just makes it really sweet. I'm so proud of the way they (his team) played and hung in there and did this. I don't even know what to say."
Next up for Byron-Bergen, the #3 seed in the tournament, is #2 seed Gananda (16-3) at 6 p.m., Tuesday, at a location to be determined.
Pembroke, also a C1 team, lost today to East Rochester.
Oakfield-Alabama and Alexander also lost playoff games today, leaving Byron-Bergen, Batavia and Elba as the three Genesee County girls basketball teams still alive in the postseason. All three have games scheduled for Tuesday.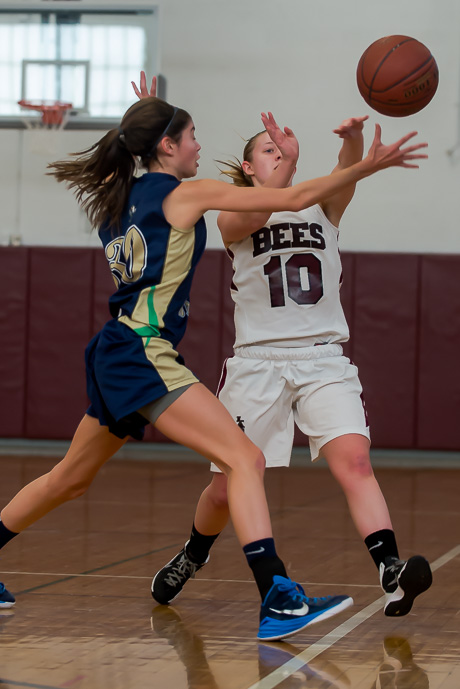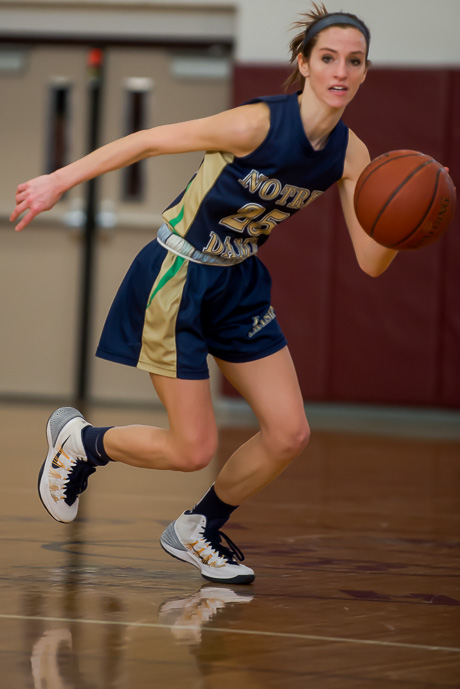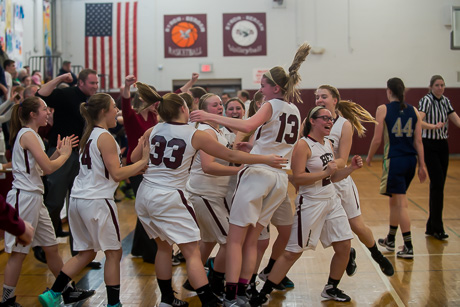 To purchase prints, click here.