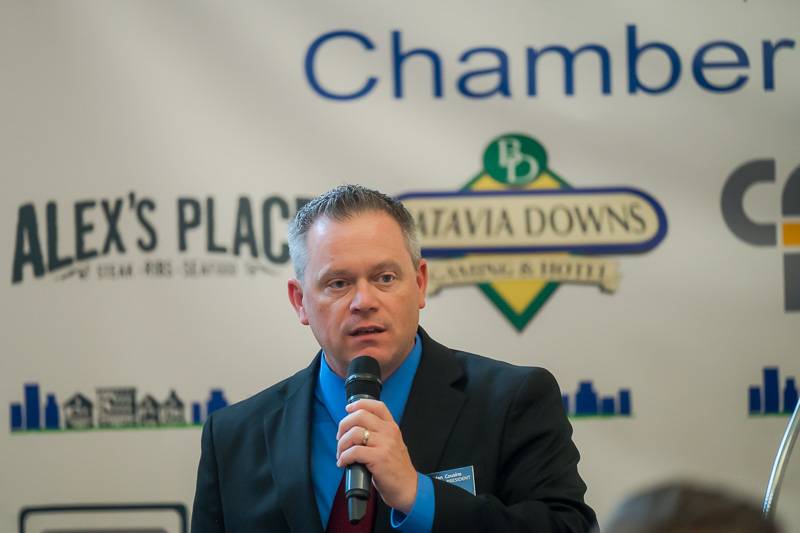 After approving a new slate of directors for the board, Genesee County Chamber of Commerce members heard a recap of a busy 2022 from Chamber President Brian Cousins.
The year started with the annual awards banquet at Batavia Downs, attended by more than 300 people. That was followed by the Celebrate Ag Dinner in Alexander, attended by more than 400 people. After that, chamber staff got busy hosting the annual Home Show at the David M. McCarthy Memorial Ice Arena in Batavia.  During the summer, the chamber hosted its annual golf and bocce ball tournament. In the fall, there was the annual Decision Makers Ag Tour.
And then there were ribbon cuttings.  Lots and lots of ribbon cuttings. There are always ribbon cuttings.
"We get requests all the time for business openings, business milestones -- Tom Turnbull (former chamber president) always taught -- and this was probably the best thing ever taught me -- that everyone always loves a good ribbon cutting," Cousins said. And it's true. A lot of people did a ton of good things in the community this year. I'm very proud of our ability to go out and support them. We probably literally had one to two requests a week. Sometimes we had two a day."
Cousins also praised the monthly Business After Hours, held at a different Chamber member location each time, as a great way to network and form important if not lasting business connections.
All of those big events return in 2024:
Chamber Awards, March 2.
Celebrate Ag Dinner, March 16
Home Show, in March
Gold and Bocce, at Terry Hills this year on July 18
Decision Maker's Ag Tour, being planned, date to be determined
And one of the highlights, surely, if the weather cooperates, of 2024 will be the viewing of the eclipse on April 8.  
The chamber's Tourism Bureau has been preparing for months -- there have been 50 meetings, 15 in-person talks, several monthly Zoom sessions, and "Jenny," the cow mascot, has made numerous public appearances.
And 2023 has been a good year for tourism, Cousins said.
"We are going to have a record year in terms of visitor spending into our county -- upwards of about $209 million total, sustaining about $65 million in tourism payroll. It's amazing," Cousins said.
New members of the Chamber board of directors:
Mickey Hyde, immediate past chair
Kristina Raff, with Nortera
Mark Brooks, with Tompkins
Michael Battaglia, Prudential
Megan Palone, Oliver's Candies
Jocelyn Sikorski, Cornell Cooperative Extension
Jeremy Liles, Oliver's Candies.
The new board chairman is John Whiting of the Whiting Law Firm.