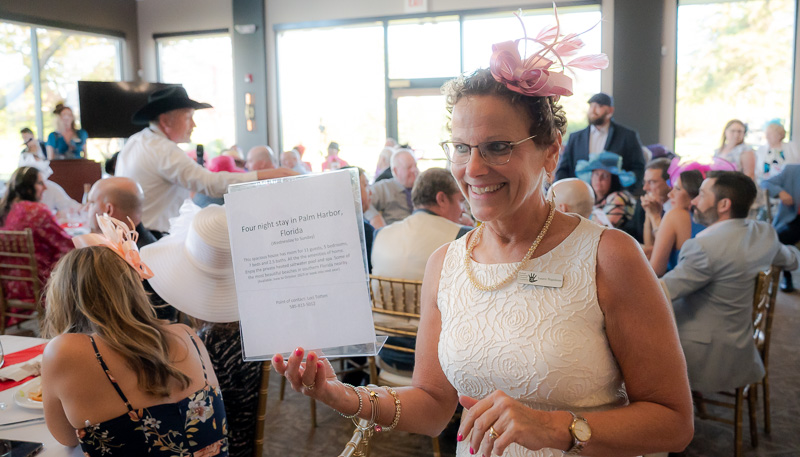 It's doubtful the folks who gathered at Churchill Downs in Louisville had much more fun than the nearly 250 people who gathered at Terry Hills on Saturday for the 10th Annual Derby Day to benefit the Michael Napoleone Memorial Foundation.
Before the big race, attendees socialized and participated in a fast-paced live auction led by Todd Jantzi from Bontrager's Auction House.
The bidding was quite competitive. For example, a four-night stay at Palm Harbor in Florida for up to 11 guests attracted a lot of attention.
Keith and Jill O'Neill, from Pendleton, were particularly excited to win the vacation package.  Keith said he wasn't sure how much it was worth, but he was sure it was a bargain at $4,000.
He beat out at least four other bidders.
"This is the first time I've ever done anything like that in my life," Keith said. "So I feel good. It is so worth it. The charity the money is going to, the money couldn't go to a better place."
It is a fun event, but also bittersweet, said Laurie Napoleone, whose son Michael would have turned 25 this year, possibly graduating from college, if not for the cancer, Burkitt's Lymphoma/Leukemia, that claimed his life when he was eight years old in 2007.
"We wish we could have Michael back with us," Laurie said. "It was tragic and the worst thing that happened in my life, but people rallied around us, they came together to help us and supported us, and supported us financially, and out of that came the foundation so we could pay it forward."
The foundation has paid out more than $900,000 to families in circumstances similar to the Napoleones.
As fun, as Derby Day is every year, there is a moment of serious contemplation every year when one of the families assisted by the foundation tells their story. This year, Laurie said, it was the Waterman family from Middleport.
"We work hard to make this a great, fun event," Laurie said. "But the flip side is, we have to help out families with kids who are facing the challenge of cancer. Every year, we have somebody come and tell their story, and it's always hard to hear. It's emotional. It's heart-wrenching, but it's why we're here."