December 13, 2011 - 4:10pm
Corfu resident among four corrections officers accused of assaulting Attica inmate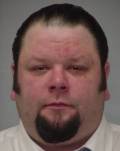 A Corfu resident is among four correctional officers from Attica who are accused of assaulting an inmate and then conspiring to cover up the alleged crime.
Keith Swack, 27, of Corfu, was indicted by a Wyoming County Grand Jury on charges of gang asault, 1st, conspiracy, 4th, tampering with physical evidence and official miscounduct.
The inmate allegedly assaulted suffered serious, but non-life-threatening injuries, including broken bones.
Also charged with Sean Warner, 27, of Belfast, Matthew Rademacher, 29, of Wyoming and Erik Hibsch, 28, of Gainsville.
All four men were arraigned in a Wyoming County Court and jailed on $25,000 bail each.
The four officers are accused of concocting a plan to assault an inmate and carrying out the assault on Aug. 9. The men are accused of then preparing false physical evidence to help conceal the crime. 
Warner is also accused of submitting false statements concerning the events to his superiors. Warner is also charged with offering a false instrument for filing.
The indictments followed a four-month investigation by State Police, the Inspector General's Office, and Department of Corrections.
December 13, 2011 - 5:54pm
#2
They will be loving jail payback time for them if they aren't put in protective custoy
Shouldn't use what supposed "power" they had to do stupid things