April 25, 2014 - 1:36pm
Head of BPD detective bureau closes out 33-year local law enforcement career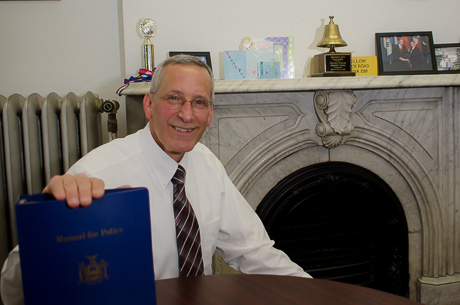 The most satisfying part of his job, Det. Pat Corona said, was solving crimes for victims. The worst part -- "call ins." Getting called in to work on a case at two or three in the morning.
"When the phone rings, whatever time of the morning, whatever day of the week, it's because something bad happened," Corona said. "That's the most stressful part of the job."
Corona has basically been on 7/24 call since 1988.
That ends today. After 33 years in local law enforcement, Corona has turned in his badge and announced his retirement, primarily so he could take a job with the U.S. Marshal's Office providing court security in Rochester and Buffalo.
"I love this work," Corona said. "I still do. I love this community. The people have been so good to me. It's been a pleasure to serve them."
But it's time to move on, in part, Corona admitted, because it's clear he'll never be chief of the department, a job he said he did seek.
"They made a different decision and that's fine," Corona said. "That's not coming and this is a great opportunity."
Corona's roots go deep in Batavia, back to his grandparents. He was born here and went to high school in Alexander.
That's where he made his career decision.
"In high school, people tell you, 'you should decide what to do with your life' and law enforcement appeared interesting to me."
His parents both worked in corrections, which may have helped guide his decision.
After graduating, he enrolled in the Criminal Justice program at Genesee Community College and when those studies were successfully completed, he worked security at the college.
"That was a fun job," Corona said.
In 1983, the Sheriff's Office hired him to work in the jail (a job that would play a role six years later in helping him solve one of the most notorious cases he handled in his career). Two years later, he graduated from the Erie County Police Academy and was placed on road patrol as a deputy.
Corona said he's thankful for the great start to his career that the Sheriff's Office provide him, but in 1985, when he was offered a job with Batavia PD, he felt that police department -- at that time -- had a better retirement package. So he made the switch.
Three years later, he and Charles Dudek were both accepted into the detectives bureau at the same time.
"I've loved working with Chuck Dudek," Corona said. "He's been a great partner. He's a brilliant detective. I've learned a lot from him."
Corona had only been in the bureau for a year when he happened into one of the most dramatic murder cases that has ever been handled by Batavia PD.
Officer Ned Murray responded to a report of a man threatening to kill a baby.
Murray came upon Joe Schlum with a pillow over the baby's face and a knife pointed at the baby's heart. Murray tried to convince Schlum to lift up the pillow and drop the knife, but he wouldn't move. As the seconds ticked and the situation became more dire, Murray warned Schlum that he would shoot him if he had to. Just before Murray was about ready to pull the trigger, Schlum lifted the pillow. The baby was saved and Schlum was arrested.
Young Det. Corona was called in to interview Schlum.
Schlum had been a trustee in the jail during Corona's two years working as a guard.
"What benefited me on that case was my time working in the jail," Corona said. "I became very acquainted with Joe Schlum. We were on a first-name basis. I think perhaps, he trusted me."
During the interview, Schlum made a confession that at first seemed impossible to believe.
"I was asking him about the child abuse and he said, 'I've done something really bad,'" Corona said. "I was thinking to myself, 'Joe, what you've done is pretty bad,' but I said, 'What is it?' He said, 'well, I killed somebody.' "
There was no immediate unsolved murder case that came to his mind, so Corona was skeptical.
"OK, Joe, who'd you kill?"
"Pam Smith."
That's an obvious name to invent, Corona thought.
Schlum said he strangled her.
Corona called the dispatch desk and Sgt. Ed Doody answered the phone. Corona asked if there was a missing person report on a Pam Smith. Doody did a few minutes research. No missing person report. But there was a warrant more than two years old for a Pam Smith. She hadn't shown up for court on some Batavia Municipal Code violation.
Corona told Doody what Schlum had said and Doody kind of chuckled. He didn't believe Schlum's confession, either.
"He was skeptical," Corona said. "I was, too. The more we talked, the more it seemed like a possibility."
Corona decided to take Schlum over to the Friendly Motel on Ellicott Street (now Charles Court) where Schlum said he killed Smith and buried her under his room.
"He brought us into one room and he walked into the corner of the room and he stepped on the corner of the floor and he said no this is the wrong room," Corona said. "I thought, 'oh, no, he's being untruthful.' We tried the next room and then the next room and he stepped on the floor and I saw the floor go (he makes a gesture with his hand going up and down), you know it went 'er-ert' kind of went in. That's when I thought, 'Ok, there's something here.' "
Officers and detectives removed the floor boards and Schlum and Corona climbed into the crawl space and Schlum showed Corona where he had buried Smith's body.
Smith had never been reported missing. Her family thought she had taken off for Texas, Corona said.
The hotel's owner, Charlie Pero, had thought a couple of years earlier that the stink around one of the rooms was from a tenant's boa constrictor that had escaped.
Officer Murray had been a fraction of a second away from shooting and probably killing Schlum. If he had, nobody would have ever known that Smith had been murdered.
Schlum is serving 17 years to life in the Auburn State Prison. He's eligible for parole in August.
The story illustrates a truth Corona learned about being a detective. You never know what's going to happen next.
"Every time you think you've seen all the cases you think you could see, something new comes up," Corona said.
The murder of Desean Gooch was another big case for Corona. He said he's extremely proud of the work of the entire detective bureau in that case.
Gooch was a Dellinger Avenue resident in 2006 when he was murdered by other young men Corona said were gang members.
The big break came when detectives were able to connect Jessie Foreman with the crime. The police had enough evidence on Foreman that they could get him to talk.
"Gang members are not going to cooperate unless you present to them that you have the evidence to proceed with something to charge against them, then they want to cooperate so they can do the best they can for themselves," Corona said. "Until they see you have evidence against them, they won't talk."
Andrew Figgins was identified as the murderer and is now serving 25 years to life at Elmira State Prison. Foreman was also arrested, along with Rondell Breedlove and Thomas Banks (an associate who was charged with a prior robbery of Gooch).
Murder cases are dramatic, but they're all important Corona said. Solving a larceny can sometimes be as much work as bigger felony cases.
"It's always rewarding to solve the mystery, to bring a case to its conclusion, to bring somebody to justice," Corona said.
Solving crimes is really about helping victims, he said.
"Years ago, through Genesee Justice, Ed Minardo gave me some advice," Corona said. "The system should victim-oriented rather than offender-oriented. It's rewarding to help victims."
The biggest change Corona has seen in law enforcement in Batavia -- besides the introduction of DNA evidence, which didn't exist when Corona started his career -- is the first local gang-involved crimes.
There was the Gooch murder, followed by a shots fired case on Tracy Avenue in 2009, and of course the shots-fired cases this past fall on State Street and Jackson Street.
"I don't want to sound the alarm here, but there has been a few legitimate gang-related activities that have gone on," Corona said.
Corona said he's a very ambitious person and the awards and plaques in his office are markers of his dedication, from the certificates for completing all kinds of detective and police work training to the five or six medals he's won from running 5K races.
"I always had a skill for running, but in high school, I didn't put it to good use," Corona said. "My first official 5K was the Friends and Family 5K through ARC. That was in 2007. I was first for my age group. I thought, 'must be a pretty slow age group,' but I was hooked."
Soon, Corona's replacement will be announced by Chief Shawn Heubusch, and Corona has some advise for that rookie detective: "Work well with others. Develop good interdepartmental relationships. When you need help, know who to call. You can't be shy about asking for help. Work well with the public. That's who you're serving."
Clearly, words of advice that served Corona well in his own career.
Photo: Corona in his office at BPD headquarters with his original "Manual for Police."
April 25, 2014 - 3:40pm
#1
It was always a pleasure working with you through Rape Crisis. I hope you enjoy your new position, but you will be missed. Again, thank you.