August 19, 2014 - 6:28pm
Local chef plans special dinner at City Slickers of all locally grown food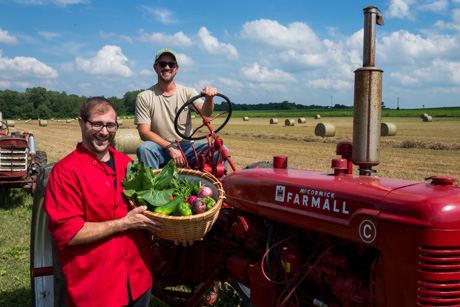 Farm-to-table is a growing movement nationally, but it's a term that hasn't popped up in Genesee County too often -- until now.
Brad Kujawaski, sous chef at City Slickers, is passionate about local food and he would like to see more people in Batavia realize how much great food is grown on our local farms.
"I think it's really important to give credit where credit is due and that starts with the farms," Kujawaski said.
He is preparing a five-course meal created entirely with local ingredients at City Slickers on Aug. 31.  
The produce will come from Porter Farms, a certified organic farm in Elba, and chicken will be from HLW Acres, Attica.
While Kujawaski expects to include a main course of roasted chicken and chicken soup, the rest of the menu will depend on what's farm fresh at Porter Farms that week.
"We're going to pick for him what's ready and he's going to cook it," said Peter Metzler, of Porter Farms. "To me that's about as fresh as it can get."
At least three courses will be paired with a beer from Rohrbach.
Kujawaski interned at Porter Farms during college and the fact that Brad is a good friend and a great cook is just part of the reason Porter decided to partner with him on this first-ever local farm-to-table meal, Metzler said.
It's also a chance to show off to more people in the community what Porter offers through its CSA.
"It's another way for us to get our food into the community," Metzler said. "We've never done anything like this before. It's pretty common elsewhere, so we wanted to try it out and see how it does."
The Aug. 31 meal is from 5 to 7 p.m. The cost is $60 per person or $100 per couple. Tickets can be purchased at City Slickers.
August 20, 2014 - 2:23pm
#5
A "flexible menu" is not the concept. You can go to a restaurant any night of the week for a "flexible menu."
Fixed menus are a communal dinner with a chance for a chef and guests to share in a common experience. The experience is enjoying the surprise and quality of what the chef prepares.
The Japanese have a word for this specifically related to culinary delights: Omakase. It means, "I'll leave it to you," or "I entrust."
Restaurants the world over have special meals where you buy the experience, not just the food.
I can't say for sure, but typically, in a pairings event, you're not getting a whole pint of beer, just as you wouldn't get a whole bottle of wine. You're supposed to experience the mingling of flavors, not get drunk.
I'm also flabbergasted by a complaint over price. $60 is pretty darn cheap for a top-notch meal with multiple courses and beverages included.
Nobody is saying farm to table is new. In fact, the story says 100 percent the opposite. The fact is, regardless of what the Democrats might do, or what the ag society does at its annual dinner, there's never been an event quite like this, as far as I know, in Batavia before.
If it's not your cup of tea, don't go, but I know quite a few people around town that this will appeal to.