March 14, 2013 - 10:43pm
Middle school students learn about social issues and explore new skills at youth conference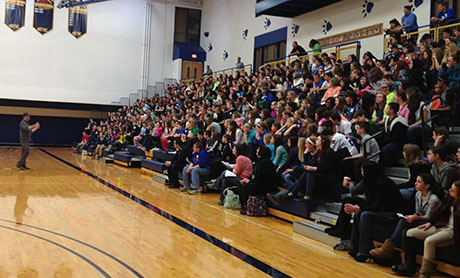 Press release:
The Genesee County Youth Conference Coalition sponsored its 25th Annual Youth Conference at Genesee Community College this week.
This conference is offered on an annual basis to local seventh- and eighth-grade students in an effort to address pertinent social issues of interest to youngsters of middle-school age.
This year we also invited a select group of students from Orleans County. There were approximately 500 seventh- and eighth-grade students in attendance.
This year's theme of the conference was "Illusions … To Lead or to be Mis-Led." 
The keynote speaker, nationally known Illusionist Tom Coverly, addressed the kids in the areas of bullying, respect and positive decision-making. 
After the keynote, students attended two morning workshops, were provided lunch and then attended an interactive afternoon workshop. Professionals from the community volunteered their time to provide information to the students in their respective fields of expertise.
Workshops were provided in the areas of…Communication, Yoga, Nutrition, Careers, Pet Therapy, Zumba, Triple D-Dodgeball (Drug and Alcohol Awareness Game), Conflict Resolution, Dance, Getting Active with GPS, Creating Artist Trading Cards, Assuring a Positive Future and many others.  
Members of the Youth Conference Committee are extremely grateful to the workshop presenters who volunteered their time to educate our area seventh and eighth graders. We are also grateful to the following businesses/organizations that provided discounts or donations for the conference…Genesee County Stop DWI Program, Upstate Milk and Subway.
The Genesee County Youth Conference Committee is comprised of representatives from the following agencies: Batavia Youth Bureau, Genesee County Youth Bureau, Genesee Community College, GCASA and YMCA.  
For more information on this year's Genesee County Youth Conference or to find out how you can participate in the next event, call the Batavia Youth Bureau at 585-345-6420 or the Genesee County Youth Bureau at 585-344-3960.
Submitted photo: Pictured are the 500 seventh and eighth graders and their school chaperones who attended the 2013 Genesee County Youth Conference held at GCC on March 12, being addressed by Tom Coverly, "The Illusionist," and Keynote Speaker.