March 8, 2015 - 9:30am
Notre Dame suffers heartbreaking loss in OT in Section V championship game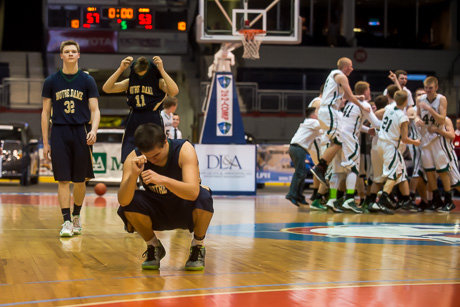 For much of the first half of Saturday's Section V Class D1 championship game at Blue Cross Arena, Josh Johnson was the wheel that kept Notre Dame's offense rolling.
But wheels have cogs and cogs sometimes break.
The broken cog Saturday was Johnson's hip, which the senior guard hurt late in the half.
Who knows how the game might have turned out if Johnson had been healthy and rolling at full speed through an entire 32 minutes.
A slowed Johnson didn't exactly curb the Fighting Irish offense. The game did move at a different pace, but Notre Dame still held a lead with a minute to play.
The 51-48 on the tote board above the court glowed, but that's only three points. There's little margin for error with a one-basket lead in a championship game.
The errors came in pairs Saturday. Six times, when a single charity point would have made it a two-possession game, Notre Dame shooters missed free throws.
Johnson missed four of them.
The first two after a backcourt foul, which sent Johnson trotting down the court, nodding at his teammates with knowing smile that seemed to say, "I've got this."
Only Johnson didn't have it. Neither shot fell. The Notre Dame bench, so animated for most of the half, was quiet, unmoved, sitting like parishioners in a church pew waiting for the collection plate.
Notre Dame's six foul shots were the gifts every team gets as the clock winds down in close games. They're donations you have to accept to win. Every coach, player and fan knows it.
Johnson would later let his frustration show with the slam of a fist into the seat of a folding chair. 
Only Johnson knows if his hip injury affected his foul shooting. It's hardly inconceivable that it did. The change in the release of a shooter by only a fraction inch is the difference between a brick and a swish. A twinge of pain in a leg pushing up could unbalance the stroke.
That isn't an excuse. Just a thought.
The reality is, Genesee Valley's Dan George, who hadn't scored through the prior 31 minutes of play, suddenly became a factor in the final 60 seconds.
He hit two three-pointers, the second 20-footer coming with about five seconds left on the clock to tie the score.
Head Coach Mike Rapone threw his arms out wide as if to say, "how did that happen?"
After the game, Rapone explained what happened. Notre Dame's coverage broke down.
"We were supposed to be man-to-man coming out of the last time out and four of us were and one of us wasn't and that's the guy who got left open," Rapone said.
With three seconds left, the Irish huddled for one last time.
The ensuing inbound pass went to Caleb Nellis at half court. He turned, leaped and released. The form was good. The heave was long. The ball left his hands before the buzzer. It hit the backboard in the square above the rim and for smallest split of a second there was hope, but this was no Christian Laettner moment.
"I've got to be honest, I knew we were in trouble when the game went into overtime," Rapone said. "The emotional swings, with kids it's tough. Our kids felt like they had the game won and now you've got to go overtime and by that time, Josh was no factor on offense, so I knew we weren't going to score a lot of points in overtime."
After those final four minutes in which the Irish scored just once, Notre Dame was left with slumped shoulders and blue jerseys pulled up to cover faces as Genesee Valley players leaped into group embrace to celebrate their 57-53 victory.
Johnson, who seemed unstoppable in the first half, finished with 22 points and Rapone admitted, the "what if" question was inescapable.
"You'd like to dream what could have happened if he didn't get hurt because it really didn't look like they had an answer for him in the first half," Rapone said.
To be sure, Genesee Valley is a good team, led by a quick and potent guard, Tyler Zlomek, MVP of the tournament, who scored 24 points and forced man-to-man coverage while the Irish used a zone to impede the rest of Genesee Valley's offense
They also had to deal with 6' 6" junior Carter Schneider.
An athletic center, Schneider battled under the boards and kept his team fired up, though he hardly embarrassed Nellis, who had 11 rebounds and a couple of key put-back baskets in the second half.
"I'm not taking anything away from them, but I still say the game was there for us to take," Rapone said.
The Irish were helped a lot by the play of Casey Midwich, who showed a good deal of leadership when Johnson was out of the game for a few minutes in the third quarter and finished with nine points.
Nellis had seven points, Tyler Prospero five and John Sutherland and Luca Zambito each scored four.
Johnson also had 10 rebounds for a double-double and Sutherland had eight.
"The game was there for us to take and we didn't grab it and we have to accept that fact," Rapone said.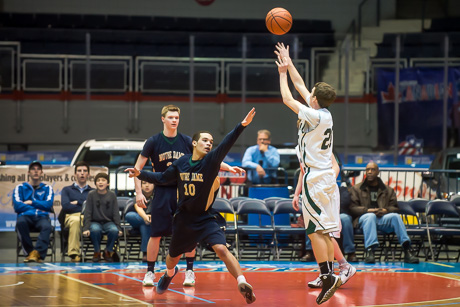 Dan George with the three-point shot that tied the score in the final seconds of regulation time.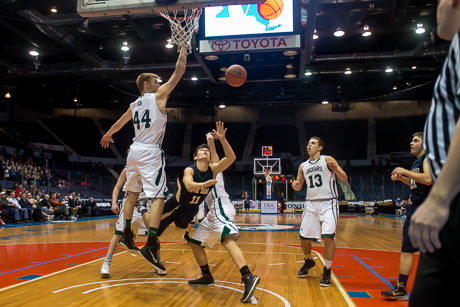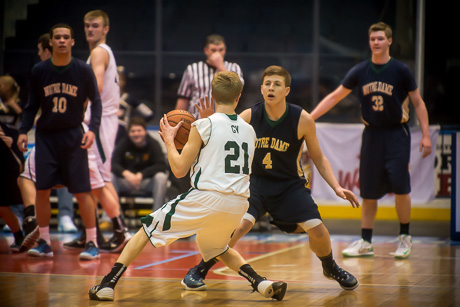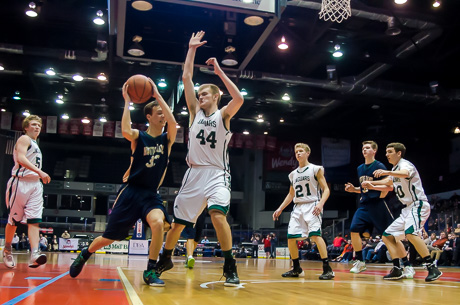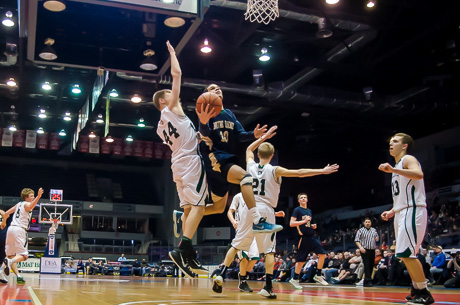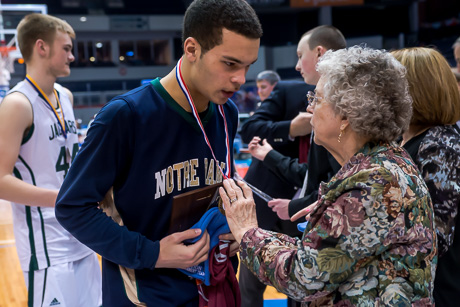 Johnson made All-Tournament team, with gifts from Section V including a plaque and medal on a ribbon.
To purchase prints, click here.
March 8, 2015 - 2:10pm
#1
Howard said,
"The broken cog Saturday was Johnson's hip, which the senior guard hurt late in the half.
Who knows how the game might have turned out if Johnson had been healthy and rolling at full speed through an entire 32 minutes."
How about taking a loss with some dignity? This and other quotes from this one-sided article sound like a bunch of excuses. I think my favorite is: "...sitting like parishioners in a church pew waiting for the collection plate."
It is truly remarkable to read your lopsided account of NBD's wins and losses. If I were a parent from Genesee Valley I would be scratching my head wondering if the author of the article was under some type of journalistic spell from the heavens above.
I realize that this is a Batavia news source, and often times my first choice for news. However, when this type of biased, excuse ridden article appears, I have to laugh and remind myself that Batavia is a small town. As a journalist you must have to weigh the backlash from the ND crowd that would come with dignified reporting with the lopsided account from above.
Coach Rapone was set to break a long standing record of Most Wins of any Section V coach in a Sectional Final game last night. Now we can begin to discuss the more important record that he now holds; most losses in a Sectional Final.
Notre Dame Class of 1989
March 8, 2015 - 3:20pm
#2
I'm the sports writer. You want it written differently, you write it. It's my interpretation of events. We cover sports news from a Genesee County perspective. Call it bias if you like. I call it context. If Genesee Valley fans don't like it, tough. Let them ring up their local sports writer and ask for coverage from their perspective. There's nothing I've done here that is outside the tradition of sports writing (which I read a lot of -- my primary source of non-fiction reading, in fact, so I'm hardly blowing smoke).
March 9, 2015 - 7:12am
#3
Howard,
Are you offering me a position as a writer on your sports staff? If so, I'll take it. I require no compensation. When do I start?