May 13, 2014 - 2:35pm
Pair of BOCES teachers mixing the right ingredients for culinary and animal science students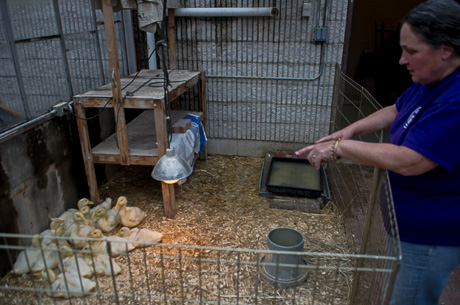 In Chef K's kitchen, if it's not right, it's wrong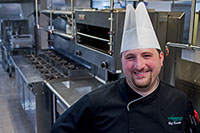 Even without the profanity, celebrity Chef Gordon Ramsay is profane. He's mean even when his soliloquies aren't bleepin' tirades.
Some of the students in the Culinary Arts program at BOCES compare Chef Nathan Koscielski to Gordon Ramsay. Even "Chef K" himself makes the comparison.
"I do yell in the kitchen sometimes," Koscielski said.
Of course, Chef K never drops f-bombs. No teacher would. But neither is he mean. There are no insults tossed around like pizza dough in Chef K's kitchen. If he raises his voice, it's more like a stern version of Hugh Beaumont than a vein-popping drill sergeant.
Ramsay — star of such shows as "Hell's Kitchen" and "Ramsay's Kitchen Nightmares" — has high standards and high expectations, which seems to be the fuse that ignites his expletive-deleted critiques of other chefs and restaurant owners.
Driving home those same points about quality and consistency is also the growl in Chef K's bark.
"There have got to be standards," Koscielski said. "Everything has got to be uniform and everything has got to be high quality. It's got to be done the right way, the perfect way, or it's wrong. If it's wrong, we're not going to sell it to a customer."
Oh, that smell. That whiff of manure spread on a farmfield. The odor of animal waste in a barn filled with holsteins or jerseys. The stench of a pigsty.
The first time Chef Nathan Koscielski brought a group of his Culinary Arts students into the animal science department at BOCES, their instant response was to pinch noses firmly between thumbs and forefingers. "Oh, that smell."
Animal Science instructor Holly Partridge remembers it well.
"They walked in and said, 'oh, this is gross. What a disgusting stink,' " Partridge said. "Chef turned to them and said, 'that is the smell of money, because without that smell, you don't have anything to sell. You don't have anything to cook. You don't have a restaurant.' "
That visit came near the start of what has turned into a fertile partnership between Koscielski and Partridge, one that is perhaps unique in culinary education circles.
"We had a documentary film producer come in to show us his film 'American Meat' and he said visited 150 FFA (Future Farmers of America) programs and he saw what we were doing and said he had seen nothing like it," Partridge said.
For the past three years, the animal science program has been producing the meat used in the meals prepared by the Culinary Arts students — chicken, eggs, lamb, pork and guinea hens. The partnership has helped the BOCES culinary program produce a three-peat in the Taste of Culinary Competition hosted by the American Culinary Federation of Greater Buffalo, but it's also produced a new recipe for educating high school students about the source of their meals.
"If you ask my students at the beginning of the year where food comes from, they say it comes from the grocery store," Partridge said. "Where's your eggs come from? It comes from the grocery store? Where's your milk come from? It comes from the grocery store. That's the mindset that Americans tend to have now because we're so far removed from production."
Both Partridge and Koscielski said that by bringing the two programs closer together, they're teaching future cooks to respect the ingredients that go into their recipes and teaching future farmers about quality ingredients. The farmers learn about how to raise animals properly and the cooks learn to reuse waste in a way that is better for the planet.
"I make every student hold a little chick that was just hatched in their hands and tell them that in 16 weeks, that chicken is going to be on your cutting board," Kosciekski said. "I don't do that to be mean. I do that to teach them respect for the ingredients. When you're holding a living animal and you know in 16 weeks, that's going to be on your cutting board and you're going to cook it, well, I can't teach that through a textbook. There's no better way to teach them to respect the animals."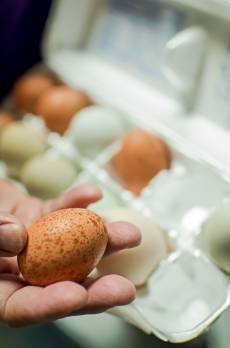 Carrot tops, loose cabbage leafs, potato skins and the other scraps of cooking that come out of Chef K's kitchen go into a red bucket and are rolled down to the animal science department to feed pigs, lamb and chickens.
"When they wheel it down, they wheel it down knowing it will feed animals that they will eventually use in their class," Partridge said.
It's a long walk down hallways with tile on the walls and past many, many classrooms to get from the cooking class to the animal class. There's a right turn, a left, a right and a left again. A walker might be tempted to leave breadcrumbs the first time on the trail, but it is a two-way path. Students from both classes will visit each other during the course of a school year as eggs hatch, grow into chickens, are sent off to a meat processing house and finally return to Chef K's kitchen so they can fulfill their culinary destiny.
When chicks grow into chickens, the culinary students weave through those hallways to pay a final visit to the birds that will soon provide broth for their noodle soups or thighs for their cacciatores.
"They get to feel what a live bird feels like; to feel what the breast of a live bird feels like; to feel the weight of a live bird; to feel its breathing and its warmth," Partridge said.
Poultry is slaughtered off campus by professionals. The plucked and dressed birds are returned to BOCES frozen and ready for whatever recipe Chef K might be cooking up for his students to learn. The Animal Science students are then invited into the kitchen to see how a bird is broken down for meal preparation.
"I don't know of a college that is doing what we're doing here with the integration of the farm," Koscielski said. "That's one of the reasons I work here, because I can't get this anywhere else. Being able to work with my farmer on a daily basis, I don't get that anywhere else."
Two years ago, BOCES hosted members from throughout WNY of the American Culinary Federation. The main course: chicken. The cooks: students. The guest speaker: Holly Partridge. The federation members learned about the breed of bird and how it was raised and then got a taste of what Partridge preached.
"They were blown away," Partridge said. "I showed them the difference between a commercial chicken, which is a very different breed of bird, and the chickens we produced. They were amazed at the difference in flavor because of how they were raised and the breed of the animal."
The animals raised by Animal Science are farm fresh, which makes for a better meal, but they're also organic, which Koscielski said not only means a richer flavor, but also a farming process that is healthier for the environment.
Books such as "The Omnivore's Dilemma," "Food Inc." and "King Corn" are required reading in Koscielski's class, he said.
"We want students to learn about organic, healthy food that leaves a small footprint on the environment," Koscielski said. "It's something I'm very passionate about."
The partnership is only going to expand in the coming years, both Koscielski and Partridge said.
By next year, Animal Science will have an expanded hen house, producing more eggs — enough eggs to stock Koscielski kitchen for the entire school year. With 100 percent of the culinary program's eggs grown on campus, BOCES will save money on egg purchases.
Partridge and Koscielski are also hatching a plan to sell duck eggs along with breads and pastries at a local farmers market this fall.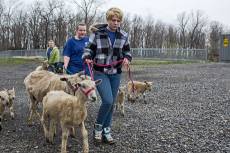 Partridge said duck eggs have a leavening agent that consumers will crave once they taste and see better breads and pastries. Dough rises better with duck eggs and the flavor is richer. When Partridge asked Koscielski if he would make some sample products to give away to help sell the eggs, Koscielski said he would go a step better, baking bread and rolling pastries to sell along with the eggs.
"The goal is to not only promote the Animal Science Program, but also give kids an opportunity to run a business venture," Partridge said.
The plan will need approval of the BOCES board.
Animal Science students spend a lot of time with the pigs, lambs, ducks and chickens they raise. They hold them, feed them, shepherd them and learn their traits and personalities. Learning to read an animal is an important skill to develop, Partridge said. They're easier to herd when you can predict their next move and you can avoid trouble if you understand their moods.
Students also help care for the dogs of BOCES faculty and students. There are lessons, too, in canine socialization, grooming, feeding and walking.
Rather than a contradiction between mixing household pets with animals raised purely to provide sustenance, Partridge said students learn valuable lessons about farming and the humane treatment of livestock.
"They understand that if you want to eat meat, you're going to raise the animal humanely, but you're not going to raise them like your dogs," Partridge said. "You're going to raise them in an environment that is economical and humane for that animal. The needs of a pig are different than the needs of your dog. The needs of a chicken are different than the needs of your canary. They understand that food comes from an agriculture process. It comes from driving down the road and watching that manure spread on the field and understanding it's not just there to make your life miserable because it smells. It's a byproduct of what we're doing so you can eat."
It's a lesson that doesn't take long for students to learn, Partridge said.
"The kids have really gotten over that, 'oh, I don't want to eat that pig, it's so cute,' to 'we are raising a quality product for a reason,' " Partridge said. "I'm not getting kids coming in crying that that little pig is going to get killed for somebody to eat. I'm getting kids with the understanding that production animals that we raise, we handle different than the companion animals that we raise."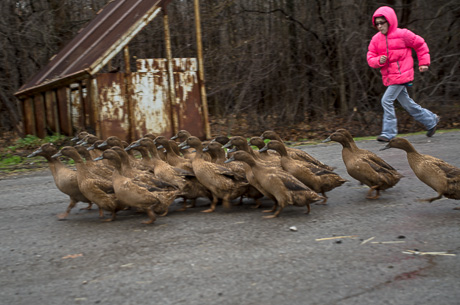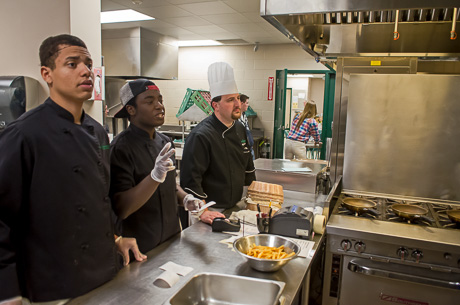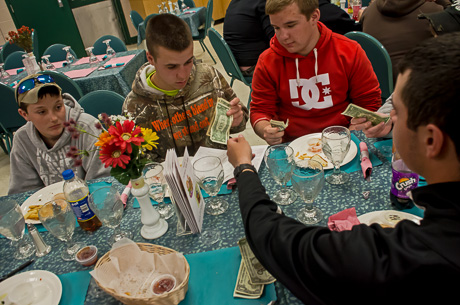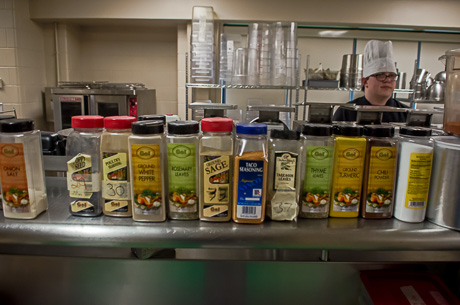 To purchase prints, click here.
Great story, and an even better lesson for the students.
Now, if we can just get Chef K to come up with a palatable swan recipe!
I'd prefer a chicken with more dark meat. Nice report, Howard.