January 12, 2015 - 2:49pm
Photo: A bit of local history and gun safety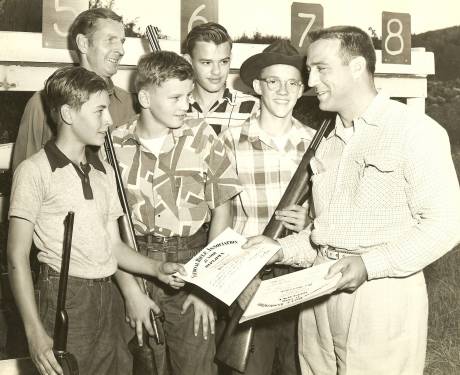 Tony Mancuso sent in this photo of his father, Joseph Laurence Mancuso, handing out NRA junior diplomas many years ago.
Tony's father did gun safety training and started Batavia Archers.
Tony said he doesn't know the other folks in the photo, but said it would be great to find out who they are. Recognize anybody? Leave a comment, if so.
January 12, 2015 - 4:01pm
#1
Many (many) years ago, a gentleman (I do not remember his name) held weekly shooting classes in the basement of the Corfu middle school - there is a pretty nice 6 or 8 lane shooting range built into the basement of that building. All the students were around 10-12 if I remember correctly. I enjoyed it.
Unfortunately, the school needed the space for storage and I was only able to take part for a bit less than a year.