January 2, 2014 - 11:44am
Photo: Low visibility and slick driving on Ellicott Street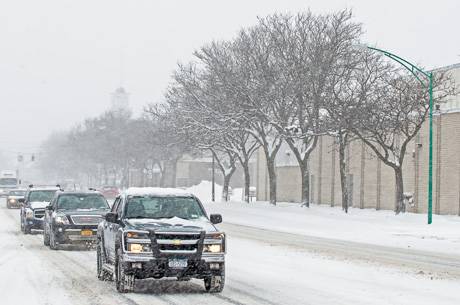 The weather can only be described as nasty. It's 10 degrees, about four or five inches of snow is falling and it's still coming. The breeze is strong enough to add a pretty strong bite to the already low temperature.
And more is on the way. The winter storm warning remains in effect through tomorrow.
January 2, 2014 - 2:31pm
#1
love it, tailgating at it's best
January 2, 2014 - 2:41pm
#2
Behind me is a stoplight that has just turned green.
January 2, 2014 - 5:38pm
#3
At the speeds that people have been travelling on Ellicott ...that would be the legal distance required by NYS law LOL