February 27, 2013 - 12:13pm
Stout defense helps Notre Dame upset Lady Lancers in Section V semi-finals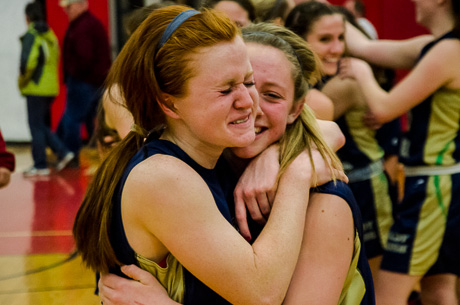 After five consecutive losses to defending state champions -- the Elba Lady Lancers -- the Notre Dame girls came into Tuesday's Section V semi-final match a little more determined and with a different game plan.
For the first time, the Fighting Irish ran a man-on-man defense.
The Lancers, who routinely score 70 or more points a game, were held to 40 on the night, scoring only 11 points in the first quarter and none in the second.
"Elba is a very good high school basketball team, a well coached team," said Head Coach Dave Pero after his team's 45-40 victory. "To shut out a team like that for even a few minutes is a feather in your cap. To do it to Elba is tough to do."
Riley Norton, who led Notre Dame with 16 points and 12 rebounds, said supporters have been encouraging the team to try a man-on-man defense.
The Irish always play Elba tough (one of the few teams that does) and maybe switching up the defense could make the difference.
"The defense worked," Norton said. "Going out and stopping them defensively is what we've been going out and working on day after day after day."
During the first half, the Lancers were often taking shots with only a few seconds on the clock. It was hard for the girls to find open lanes. When they did shoot, too often the ball didn't drop through the hoop.
"I thought, you know, we've got some quickness," Pero said, "let's roll the ball out and see where it falls. We went man-to-man and it paid off."
Tom Nowak, Elba's head coach, said man-to-man isn't something the Lady Lancers regularly see, but they've successfully played against that tactic before and they do prepare for it.
"We struggled in the first half," he said. "We didn't play Elba basketball."
In the previous five losses to Elba, the Irish have taken leads only to watch them slip away.
As the second quarter progressed, the Lancers turned a 12-point deficit into a two down, which raised the question: Would history repeat?
Of course, she thought that very question, Norton said, but she also felt this night was different.
"I knew we were going to fight through it," Norton said. "We fought through it last Friday. We've grown as a team since last time we played them. I knew this was our time and I knew we could hold onto it."
With the lead two, a three-point jumper from Emma Francis late in the 4th gave Notre Dame the emotional lift to hold back Elba.
"We said all along, and this seems to have happened the last four or five times they've beat us, we've got that one bad quarter," Pero said. "We seem to lose our momentum. Well, tonight, they hung in, they stayed composed and it's a great win for the girls."
The rivalry between Notre Dame and Elba is long-standing and crosses the lines between girls and boys sports and wraps in football as well as basketball.
On a slushy winter night, nearly 200 fans of the teams made the hour-long drive to Dansville for the game. Both sides were loud and proud until the final seconds of the game.
When the final buzzer sounded, Elba students rushed onto the court and mobbed the Elba players. The scene suited a championship game, not just a stepping stone to the next round.
Norton was clearly ecstatic after the win.
"This is my senior year," Norton said. "I didn't want to stop playing. I want to get that patch on Sunday."
Pero admitted, it was a big win for him, too.
Personally, any time you can be a coached Tom Nowack team it's great, because to me he's one of the top coaches in Section V," Pero said. "Any time you can match wits with him,  it's a feather, but it's all about the girls. It's not about me or my coaches. It's about the girls. Without them I'd be nothing, so hats off to them."
Elba had a great run that included a state title and a breathtaking winning streak. Nowak said his girls should be proud.
"Like I told the kids, you'll look back 10 years from now, 15 years, and realize what you accomplished," Nowak said. "I said I've been coaching 35 years in Elba and never did I experience anything like I did last year and this year, winning 44 games in a row. They will be really proud of that accomplishment down the road when they come back and think about it."
Notre Dame plays Friday for the sectional title, 8 p.m., against Romulus at Letchworth.
Photos: Laurie Call and Bailee Welker celebrate following the big win. Emma Francis drives for a lay-up against McKenzie Bezon. Riley Norton and Jamie Marshall fight for a rebound in the 4th quarter. Norton and Kelsey Bezon in the 4th quarter.
To purchase prints of photos, click here.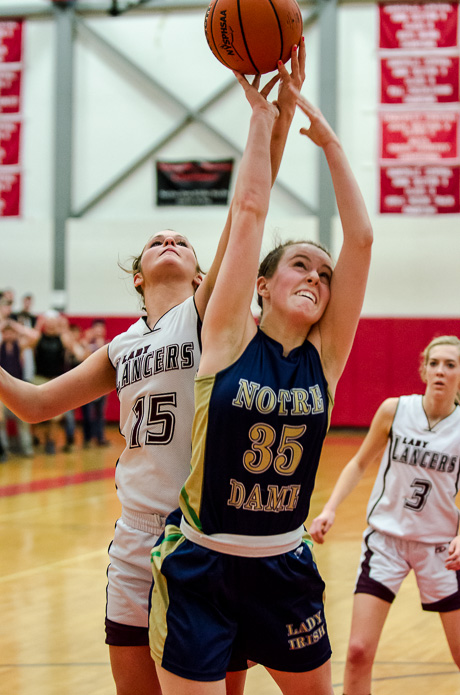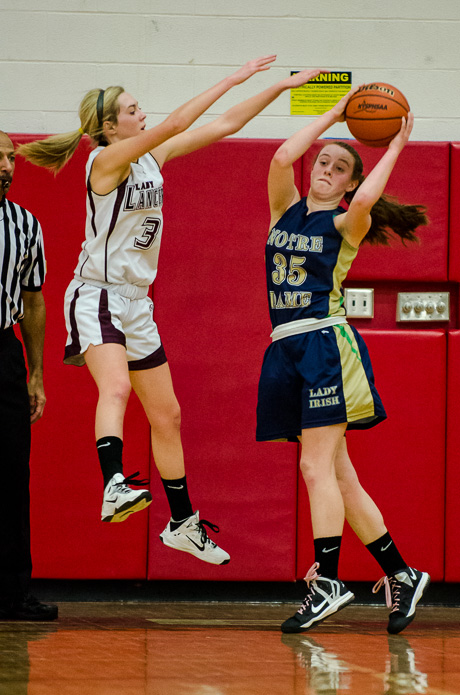 February 28, 2013 - 7:03am
#5
If person A expresses an opinion and person B says I don't like that opinion, person B has not invalidated person A's opinion by saying I find your opinion obnoxious. Person B has not denied person A of some right. Person B has not in any way inhibited person A from expressing an opinion.
In other words, what's wrong with Joseph saying he finds Scott's opinion tasteless. I'm a little surprised anybody would attack him for that. Joseph didn't attack Scott. He attacked Scott's opinion, which is a perfectly valid response to anybody's opinion.
BTW: If I'm a sports coach, my players never let up. That's not how you teach them to win, either at sports or in life. This whole self-esteem movement in modern America where every kid gets a gold star or a little trophy and we're not supposed to have winners and losers is part of the reason today's employers have such a hard time finding workers who want to work hard and achieve something.
Further, if you're a coach of a good team against a bad team, you're not putting in your second string until the game is well in hand (you still have to win the game to get to sectionals), and once you put your second string in A) you want them to play hard, because they need to learn (they're your first string next year) B) second string players want a chance to prove themselves and no self-respecting second string player is going to play soft, that's not why they play the game in the first place. Further, one reason winning teams win is they are better coached -- their practice sessions are more productive and their schemes better thought out and implemented. Second string players are coming into the game having been to the same practices, and usually they have come up through the system since they were in third or fourth grade.