February 18, 2013 - 7:05pm
Westminster is 'All That Jazz' and more for English Setter from Batavia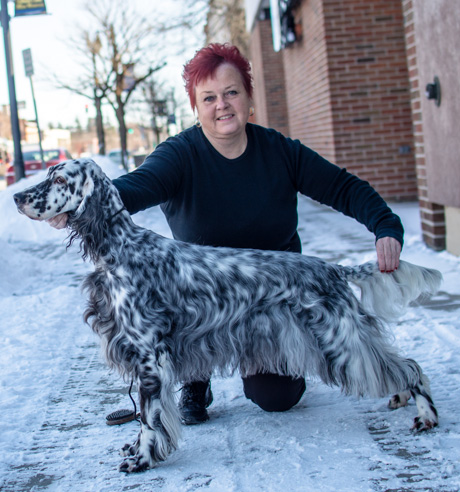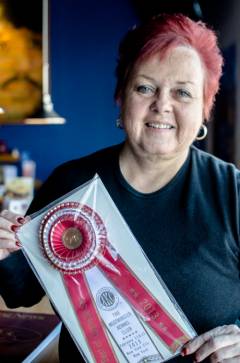 Jazzy won over a lot of hearts in New York City last week, but she made Joanne Mistler's heart soar when a Westminster Kennel Club judge named her one of two finalists among 25 English Setters invited to the competition this year.
It was a male English Setter that won best of breed, but 3-year-old "GCH Birdhavens and All That Jazz" (Jazzy's full name) was named "Best of Breed/Opposite Sex."
Just getting invited to Westminster to show Jazzy was a big honor, Mistler said, but to come home with a ribbon from America's most prestigious dog show is the thrill of a lifetime.
"She just showed beautifully, and she loves to show," Mistler said.
A few years ago, Westminster became an invitation-only show. A dog must score enough points in accredited competitions to get on the short list of dogs who can enter the ring. Mistler took Jazzy to more than a dozen shows in the past 18 months. She won her first major in Chicago, which helped her get into Westminster.
Jazzy was part of the Sporting Group. (Groups are what you see on TV, not the breed competitions.) The male that won English Setters advanced to the group, and from the four groups, Westminster judges picked Best in Show. This year, Best in Show was Banana Joe, an affenpinscher.
For owners who show dogs, getting to Westminster isn't cheap, and the payoff ... well, unless you get Best of Breed at Westminster followed by some endorsement deals, there isn't much money to be made from dog shows.
"People say, how much do you get? How much money do you get," Mistler said. "I say, you get a ribbon, that's it. But this ribbon -- this is prestige."
Mistler started showing setters in dog shows in the 1970s.
She and her husband bought a setter when her twins were 2 years old, and one day she was walking down a New York street and a member of the Staten Island Kennel Club asked her if she ever showed her dog.
She hadn't. He said the club was having a "fun show," and she should enter.
She did, and her dog won.
"Of course, I was hooked," Mistler said.
Her son, local businessman Ken Mistler, said he went to a lot of dog shows growing up.
In the days before Westminster was invitation-only, Joanne Mistler did manage to enter the competition -- entries would open at noon and be closed (sold out, essentially) by 12:30 -- so getting an invitation this year was itself something special.
There were 2,800 dogs in this year's competition, with 25 English Setters, and of those 25, nine were females.
Owners showing dogs must be there by 9 a.m. and stay until 3 p.m., Mistler said. The public walks through the show freely, meeting all the dogs, talking to owners and learning about different breeds.
"It's a long day for exhibitors, but it's prestigious just to be there," Mistler said. "(Jazzy) had her picture taken a thousand times and was petted by a million people."
Next up for Jazzy is becoming a mother. Mistler said she will go into heat next month.
She already has a prospective mate.
A lot goes into picking a mate for a show dog, Mistler said. Show dogs are judged against a set of standards for the breed, and every show dog has some standard that gets just a little off.
"No dog is perfect," Mistler said. "If she has a tail set too low, you look for a male with an even tail. If she is not deep-chested, you look for a male with a deep chest. You try to offset it."
The owner of the prospective mate loves Jazzy's temperament and the way she showed, Mistler said.
Typically, a pure-breed setter puppy sells for about $1,000. The red ribbon might make Jazzy's puppies a little more valuable.
From the time of Mistler's first show dog until Jazzy's predecessor (a female that wouldn't breed), Mistler always kept a puppy from the litter. With Jazzy's litter, Mistler hopes to resume the line of dogs she's bred.
Picking that puppy is as much art as it is science. At about six weeks, you see bone structure and whether the animal will be well-proportioned.
If your puppy shows, great. If one of the other puppies shows, even better.
"You hope that one of these puppies will be shown," Mistler said. "It's every breeders dream. The chances are, if you get one to go to show out of a litter, that's wonderful. That's what everybody's dream is, to have the dog that you can say, 'Joanne bred that dog. That's one of Joanne's breeds.' "