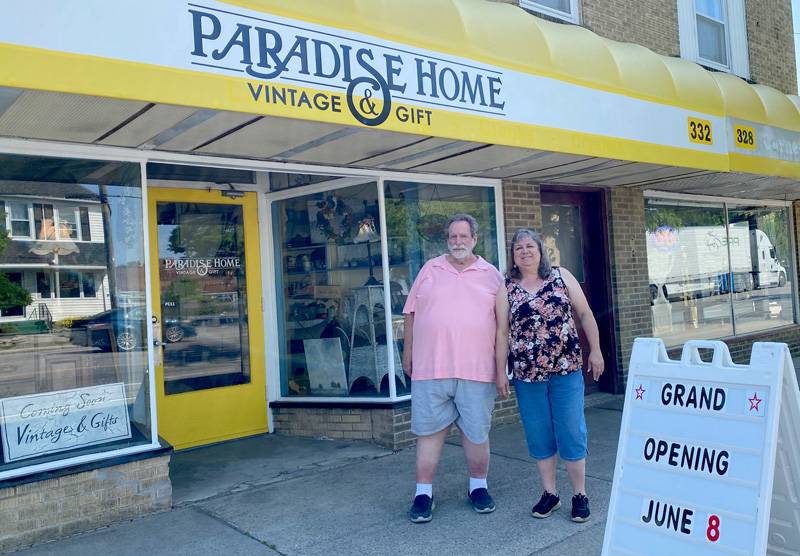 Walk into Paradise Home Vintage & Gift, and it might seem a bit of an eclectic mash-up of stuff, from furniture, knick-knacks and wall decorations to dolls, toys, baskets, jewelry and kitschy novelty goods.
And, actually, that's exactly what it is. Only with a touch of vintage, Victorian, retro, mid-century modern, Americana, primitive, antique and, most definitely, intriguing eras and styles to make shoppers want to pause for a second and maybe third look around. They'll get that chance with a grand opening this Thursday at 332 Ellicott St., Batavia.
Owner Macy Paradise Jr. and his partner and shop manager Linda Pezzimenti call the various sections "vignettes" throughout the 1,000-square-foot space.
"So it's furniture, and it's just anything that you could put in your house. As well as fun things, I don't expect to sell a lot of old toys, but it's, they walk in and go, 'I remember that game.' You know, to bring back a little piece of memory. I'm going to order some candy cigarettes, bubble gum cigars, candy sticks; we'll have a little area for that stuff," Pezzimenti said during an interview with The Batavian. "And then the jewelry is all brand new as well. I've been selling jewelry for years. And it's an assortment, it's stuff you can wear to work, and it's also stuff that's a little wild and funky."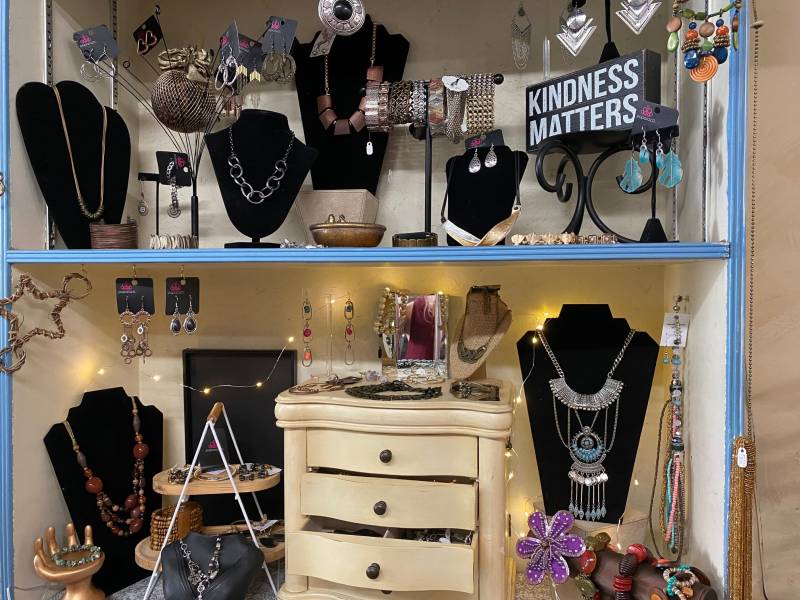 Maybe folks won't want the decorative sack of potatoes or old-fashioned country store-themed items under the General Merchandise sign, including a Charles Chips can, stacks of retro cups and saucers, novelty ceramic vegetable containers, an oversized plastic ketchup bottle, painted pottery beverage pitchers, an ice cream cone sign that reads Have a Sweet Day, a collection of mugs with assorted sayings, and a wooden sign with a Batavia-based sentiment  about how far away we roam, "our hearts make the journey but will always be at home."
But they may smile as they pause to look at everything on the way to the next nook, she said.
That vignette is alongside a man cave in progress, with beer signs, bottle openers, racing car items, and other traditionally male-oriented objects, while other sections of the shop offer niches for pet lovers — assorted ceramic dog planters, wall signs, hand towels, placards, mugs; and home decorators will find dozens of items including tin hearts, colored vases, paintings, stemmed glasses, steamer trunks, lamps, and anything that's not cookie cutter, Pezzimenti said.
"Walmart and Target have the basics. But if you buy something like that and put it in your house, everybody knows where you bought it. But you know, it's not going to be something that's at Walmart. And then there's only one of those for the whole city," she said, adding that inventory will be refreshed on a regular basis. "I think it's important that things change, you know, if a certain shelf just isn't doing anything, then it's gotta go. And I don't care if I pack it in a box and bring out a whole new something else. I'll just take it out of here. Because this isn't doing anybody any good to see the same thing, and we've got the inventory to do it. 
"We have plenty, and I shop every day. I'm not kidding. So I mean, like right now, there is a space over there on the very top. Yeah, and it's making my skin crawl, like, okay, well, how is there an empty space? I don't like that. So my one of my biggest concerns is what happens if a whole bunch of shoppers comes in on a Wednesday, Thursday, and there's empty spaces, like I have to get those filled before my Friday, Saturday, because, it's just wrong, just an empty spot."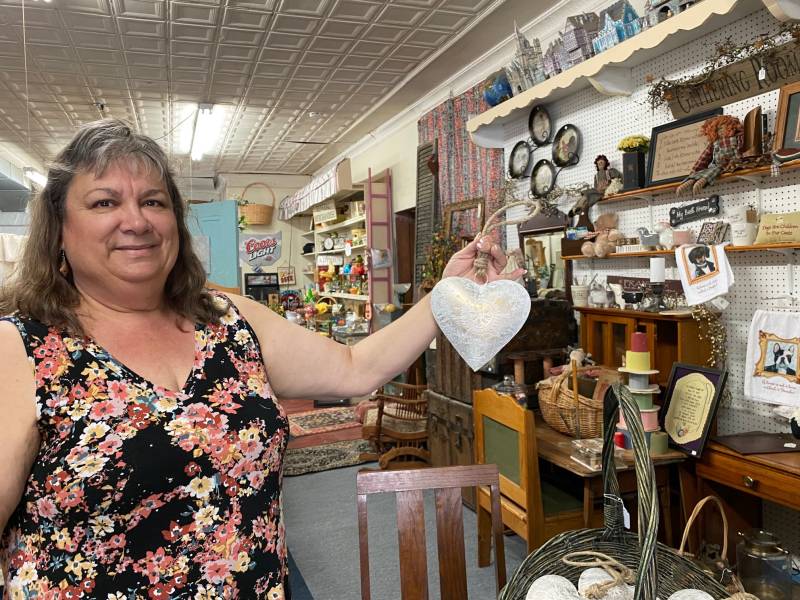 When she says she shops every day, that's not hyperbole. Pezzimenti has fine-tuned the art of shopping flea markets, garage sales, and auctions, and networking with people to know when large-scale clearance sales are coming up. For example, she and Paradise were going to the biggest flea market in New York State this past week, armed with his trailer to bring back their cache. They had another event on the books for Monday in Ohio.
Is there ever a concern that enough is enough, or maybe even too much? Not yet, they both agreed. All of the purchases go into a designated storage, and then will go into the shop. And Pezzimenti has worked hard to clean, itemize, tag and log everything to keep track of it for the business, she said.
"I've been doing retail stores since my 40s, and I'm 65," she said. "I think the first time I did it, it was all new stuff, it was all things you buy wholesale, and you just buy to resell. But it's more interesting when you have props as risers and tables underneath that have a little character and charm; they're also cheaper than going out and buying a brand-new table.
"So you start doing that kind of thing, and then everybody wants to buy your props. That always happens. So now the props are for sale. So you have to price it such that people are dying to do that, which makes them want to come back."
Eventually, she kept buying not only merchandise, but those props, and items kept stockpiling, which meant renting storage — two storage units, a four-car garage, two-car garage and a 16-foot trailer. They finally cleared out the storage to fill up the store and have no plans to stop replenishing supply.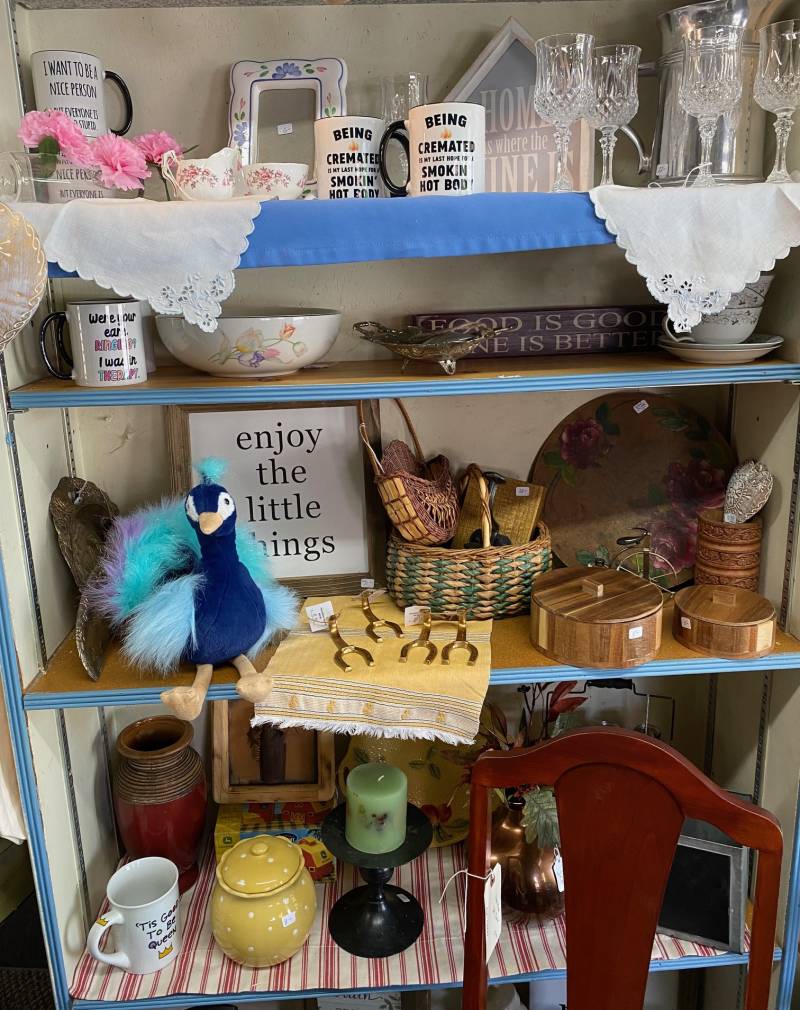 Everything in the shop is priced to sell, Pezzimenti said, and she and Paradise are excited to see the public's response. The shop isn't their sole livelihood, but yet it's something they want to be a success, especially with fewer retailers around, Paradise said. There aren't as many places to shop these days, he said.
They will take requests to watch out for certain items and plan to post photos online to pique customers' interest in new arrivals at the shop. Pezzimenti has drafted a list of definitions to help people clarify the differences between:
Retro — objects with a nod to the past but are more recently made.
Vintage — which is an item created by hand or machine, approximately 40 or more years ago.
Victorian — created during the reign of Queen Victoria between 1837 and 1901.
Antiques — generally considered to be 100 or more years old.
As for Paradise Home Vintage & Gift? There's a "nice mix of different eras," Paradise said, from  100+ years old to make 20 years ago or even more recently. There are items that would be perfect for someone just moving into an apartment or for an established home.
"I have a very good eye," she said. "I've done all the hunting for you."
The shop is highlighted by the big yellow awning on Ellicott Street, which used to be Joe's Trophy shop. A grand opening special of 20 percent will run from Thursday to Saturday, with both a ribbon-cutting at 1 p.m. and a prize drawing of a $50 gift certificate on Thursday.
Hours will be 10 a.m. to 5 p.m. Wednesday through Saturday. For more information, call 585-536-7793 or email [email protected].