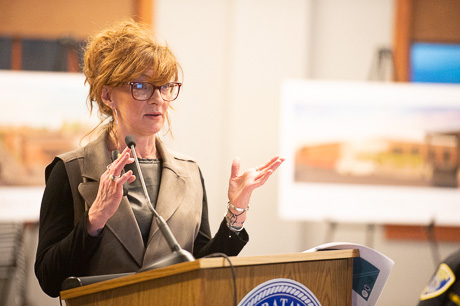 Although the Batavia Development Corporation was established in 1994, Tammy Hathaway has been the new director for just under a year, hired for the position in May of 2022.
She brought with her a passion for finding answers and being inquisitive about the mechanisms of how things work. And since buckling down in her first-floor City Hall office, Hathaway has been learning more about grant programs, housing projects, construction sites, and even mall markets. 
Hathaway was given the spotlight Monday evening to present the nonprofit agency's activities, projects and benefits to City Council during its conference session at City Hall. The BDC has a number of historical objectives, she said, including to:
Improve the quality of life within the city through planning, collaboration, and programming;
Encourage retention and development of small businesses;
Promote additional and maximum employment opportunities; and
Retain and enhance the community's fiscal base and attract new business.
Hathaway believes that economic development is important because it means private and business investment, job creation, industry diversification, new construction, rehabilitation projects, business retention and expansion, improved quality of life and sustainability and longevity.
With 54 percent of Batavia businesses being run by one to four employees compared to 2.6 percent having 100 or more, there's one clear fact when it comes to the small business world here, she said.
"We cannot deny that small businesses are a critical component to our economic development," she said.
Other stats include 10,318 people that are employed in the City of Batavia, 2,500 of which are filled by city residents and 7,818 commute to work in Batavia.
The top four industries here are health care/social services, manufacturing, retail and office work, she said. An important question to ask is, "what do we do that make people want to live here, work here, and play here?" she said.
Diversity of projects may be a good start. Projects such as the Ellicott Station apartment complex on the city's south side, renovation of the adjacent former Della Penna building for a future restaurant/brewery, renovation and expansion of the GLOW YMCA and Healthy Living campus in downtown, continuous evolving of Harvester Center on the east side, and redevelopment of Creekside property behind the ice rink are five key undertakings in designated brownfield areas being or having been cleaned up and prepared for new ventures.
Hathaway likes to say that it's about learning about what you don't know so that the unknowns are known. Once that happens, then action can take place.
Other completed projects include Hunt Real Estate's purchase and renovation at the corner of Main and Jackson streets, Main St. Pizza Company's ongoing upper-floor apartment project, and Dr. Neppalli's overhaul of 99 Main St. for office and apartment space.
Eight projects, which also include the former Carr's building, Theater 56, Jackson Square and City Centre, were awarded funds from the Downtown Revitalization Initiative, she said, for an estimated total $66 million investment.
"BDC's dedicated efforts have increased assessed values by almost $10.5 million," Hathaway said.
Photo of Tammy Hathaway by Howard Owens.