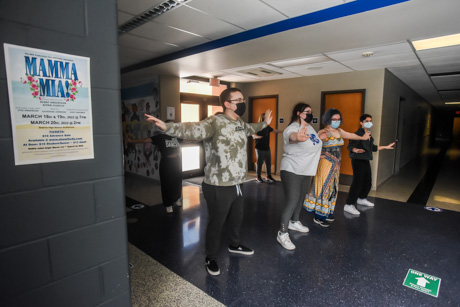 Rehearsals for Batavia High School's production of Mamma Mia has not been without its mishaps, senior Samantha Balbi says.
The Abba tune "Money, Money, Money" features actors in lines that move across the stage for a big dance number. Except there was no stage for the last few months, and actors had to adjust during busy scenes, she said.
"I'm weaving through everybody, and it was very difficult, very cramped," 18-year-old Balbi said during an interview with The Batavian. "I bumped into people accidentally. It's a good sized cast; we had to work out spacing."
As if scheduling and rehearsing with busy student actors — during a time requiring masks and sanitizing no less — wasn't enough for Musical Director Caryn Wood and her cast. But then "the other shoe dropped," she said: She and her cast were left without an auditorium for rehearsals. A massive windstorm boasting 75 mph gusts on Dec. 11 last year left portions of Batavia High School's roof severely damaged. That in turn rendered the auditorium below inoperable. Up to that point, her production of Mamma Mia was well on track for an early March debut, Wood said.
"In very early December we did auditions. We had just finished Sherlock Holmes," she said. "All was fine, we're just rolling onto the next show. We were starting our rehearsal process, and the windstorm happened."
All of the air exchanges on the roof were damaged, leaving no way for air circulation in the auditorium, she said. No one was allowed to use the space until the exchanges were fixed. She and students initially and enthusiastically marched on. They learned their lines and music while seated in smaller areas, including the band and chorus rooms, and then added in hallways and sections of the gym for choreographed pieces.
Their plans for a show during the first weekend in March were eventually dashed, Wood said.
"We found out there was no way that was going to happen," she said.
The group's biggest space needed for choreography and blocking wasn't going to be an option. For the next several weeks, they sought out whatever space was available for rehearsals, moved all of the chairs out of the room, and did what they could, she said.
"I'd say, 'ok, we're going to go on a field trip now,' and we were going to find some space," Wood said.
She met with Superintendent Jason Smith and Business Administrator Scott Rozanski, who were working with buildings and grounds staff about the necessary repairs. They were all "trying to move on a timeline," she said.
In the meantime, a two- to three-week delay wasn't just about rehearsal space, she said. Wood had to get an extension from Music Theater International for the show rights and usage of scripts and to extend costume and backdrop rental (which was shipped from Kansas) and materials from the art and hardware store.
"All of that had to be readdressed and readjusted," she said. "It felt surreal, I didn't know how it was all going to play out."
The same could be said about Mamma Mia, a musical comedy about a young bride-to-be who invites three men to her upcoming wedding, with the possibility that any of them could be her father.
Wood had to make hard decisions, such as deliberately putting off the bigger choreography numbers until there was more room to move. It's not the first time the director faced this type of dilemma, she said. Her cast had to work around a capital project for Shrek three years ago. Only she at least had a more definitive timeline, unlike the unknowns this time around.
"We were nomadic. We were going where we could go," she said. "I feel like young people handle change better than adults. All were on board, and they wanted to make a good show; they were up for the challenge. They are without a doubt super excited and thankful to come back into the auditorium."
Rehearsals moved into the auditorium this past Monday for the first time all year. It was a "breath of relief," said Balbi, who plays the character Donna.
Fellow actor Michael Bartz, a junior, has participated in theatrical shows since fifth grade. He is happy to be part of "a super upbeat show," and took the regular field trips with stride, he said.
"I've never had to move between rooms before; that was just fun, I enjoyed it," he said, adding the downside "The space we had was not accurate to the stage. At the end for a megamix of three songs back to back, there are fun dance numbers and moving lines going back and forth. It was harder to transfer that to the stage."
Wood explained that, after having to shrink down the dance moves to fit a hallway, there was then a challenge to expand all of that to fit across the school's comparatively gigantic stage. She is grateful for the district administrators' assistance to get back into the auditorium, especially since the roof has not yet been completely repaired.
"We're very fortunate, the show is only two weeks later," she said. "There were some weeks when I was waiting with bated breath."
The show has been postponed to run March 18-20.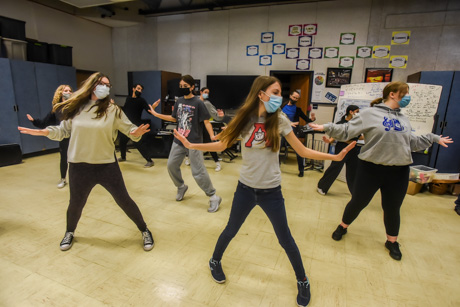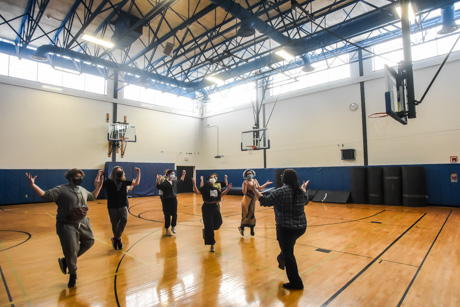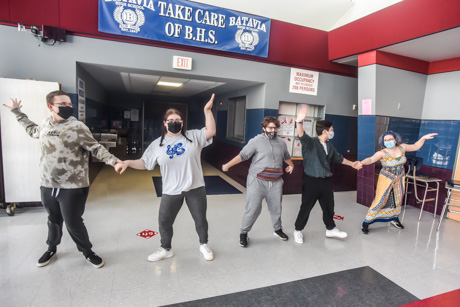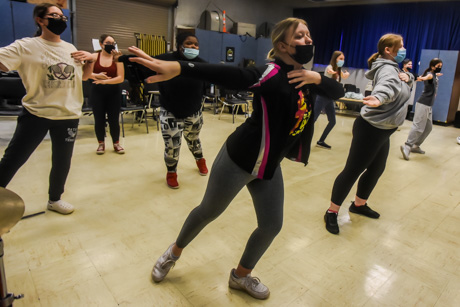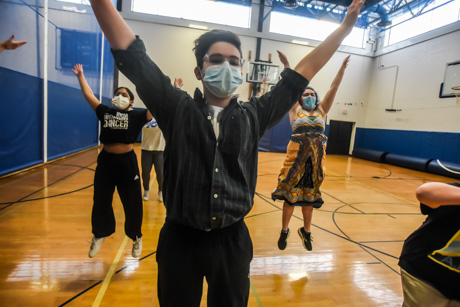 Top photo: Members of Batavia High School's drama club rehearse a scene in the hallway of the State Street school. Other venues are tapped in an effort to find available space in lieu of using the auditorium due to roof damage. Photos by Howard Owens.