March 15, 2022 - 10:44am
City of Batavia sets wheels in motion to replace Engine 12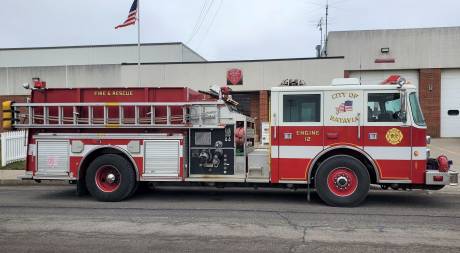 It seems as though fire truck No. 12 is the "little engine that can't" – for very much longer.
City of Batavia Manager Rachael Tabelski reported at Monday night's City Council Business Meeting that the city fire department's Engine 12 (photo above) is 20 years old and is just about ready to be retired from service.
"We have in our capital plan a fire truck replacement for Engine 12 and we are looking at getting grant funding from CDBG (Community Development Block Grant)," Tabelski said. "And before we submit a full application, they ask that municipalities go through a pre-application process.
"It's a 2002 (model) that we will be replacing and the estimated cost is 700,000 dollars."
From there, she turned it over to Interim Fire Chief Dan Herberger, who provided more details about Engine 12, including its shortcomings in the area of technology.
"We're looking at replacing it with something very similar to our frontline engine, which is Engine 11," he said. "It's a rescue, fire engine-type style; basically, think of it as a fire engine with rescue capabilities."
Herberger explained that the department operates with two main pieces of apparatus – one for the on-duty staff, "so we basically have to take everything with us, all the time."
He said Engine 12 doesn't have the safety features that come with today's fire trucks, such as lighting and the ability to hook generators to the trucks. He also said the current vehicle has signs of rust.
"Right now, we're in the design phase – looking at various vehicles from around the region to see what best fits our needs," he said.
Tabelski, answering a question from City Council President Eugene Jankowski Jr., said she is hoping to receive $200,000 from the grant. Coupled with $400,000 that is in reserves, the city would be close to covering the full cost of the new truck – likely in 2023-24.
Herberger said there would be little trade-in value for Engine 12, noting that it would be 22 years old by the time a new truck was delivered to the city.
He said he remembers the sale of an old ladder truck to a tree trimming company in North Carolina but the monetary return "really didn't offset anything too much."
When asked if the cost of the new truck was a bottom line price, Herberger said the department may have to purchase "a few miscellaneous pieces of equipment for it."
"In the past years, we've really tried to standardize all of our vehicles, so hose complement, rescue tools and hand tools, they're pretty much the same throughout everything, so that bottom line price would be with equipment," he said.