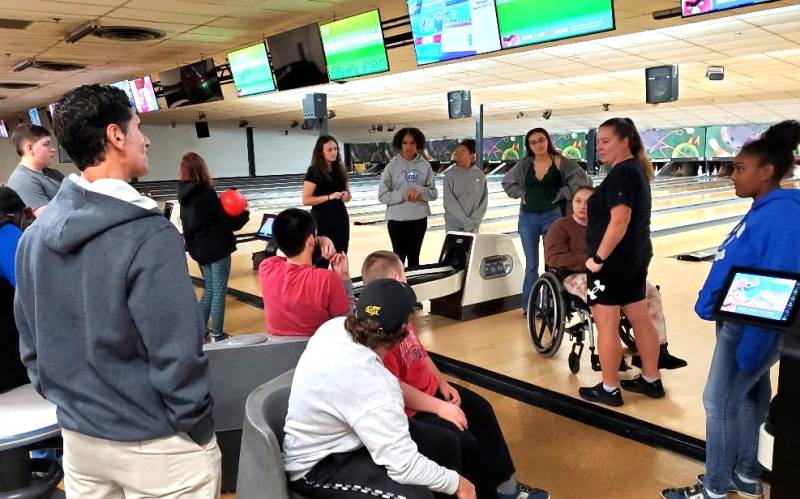 More and more students in the Genesee Region are finding their athletic niche by participating in Unified Bowling, a component of the Special Olympics Unified Sports program.
About two dozen schools – including Batavia, Pavilion, Le Roy and Perry -- are participating in the Section V Unified Bowling League this season.
Matches get underway this coming week, with the Batavia team opening against Churchville-Chili at Spencerport Bowl and the Perry team taking on the combined Pavilion/Le Roy squad at Perry Bowling Center. Both of those matches are set for 4 p.m. Tuesday.
What makes Unified Bowling (and Unified Sports, in general) unique is that it combines students with intellectual disabilities and students without intellectual disabilities to produce interscholastic sports teams for practice sessions and competition.
"It's all about creating a team atmosphere," said Jamie Masters, the first-year head coach of the Batavia squad. "Whether they have disabilities or not, they're all working together as a team."
She said that the matches consist of three games, with two games of doubles competition and the last game as a team competition. Local bowling centers scheduled to host matches over the next several weeks are Mancuso Bowling Center in Batavia, Le Roy Legion Lanes and Perry Bowling Center.
Masters, a physical therapist for the Batavia City School District, said the program also aims to increase friendship both on the playing field – or lanes, in this case – and in school.
"A goal is to build camaraderie in the school, such as sitting with each other during lunch or having conversations during the school day. It's goes beyond bowling," she said.
The Unified Sports initiative fosters inclusive activity as a way to tear down stereotypes and build relationships, while providing students with and without intellectual disabilities the chance to take on leadership roles in their schools and the community. Specific campaigns tied to the program include Fans in the Stands, Pledge and Plunge and the R-word Campaign.
According to the Special Olympics, more than 8,300 schools across the United States take part in Unified Sports.
For the Section V Unified Bowling schedule, click on this link: Unified Bowling Schedule - Section V Athletics.
Rosters of the local teams are as follows:
Batavia – Lena Boris, Andy Burton, Jennifer Ewert, Aleigha Frith, Kaelee Kelso, Max Kongmany, Esayas Reinhardt, Aiden Bellavia, Landon Hamilton, Jayla Odom, Price Parris, Rahmeto Reinhardt, Lylianalynn Santos-Baez, Benjamin Sputore and Marisha Tucholski. Coach: Jamie Masters. Assistant Coach: John Kirkwood. Volunteer assistant: Ryan Hamilton.
Pavilion/Le Roy – Carter Blaisdell, Alex Boldt, Case Cummins, Chris Doody, Corina Dunn, Jackson Fix, Merritt Holly, Hudson Klein, James Kingsbury, Jordin Kreutz, Adam Leitten, Dannielle Morehead, Alaina Powers, Morgan Powers, Arianna Pray, Reilly Powers, Landon Stoddard, Andrew Strollo, Mia Strollo, Joey Vernaccini, Makayla Washburn and Zoe Washburn. Coach: Michelle Milligan. Assistant Coach: PJ Puccio.
Perry – Hunter Clark, Todd Claud, Ashlee Davenport, Alexandra Faryna, Dominik Forrester, Nicolas Gutierrez, Hunter Henchen, Mason Herman, Olivia Herman, Kiara Hughes, Peyton Lyke-Scott, Koleden Osborne, James Shearman, Bryce Tallman, Landon Warner, Sawyer West, Victoria Wilson. Coach: Kris Goodell.