September 11, 2013 - 10:22am
Irish Open Regular Season with 3 Wins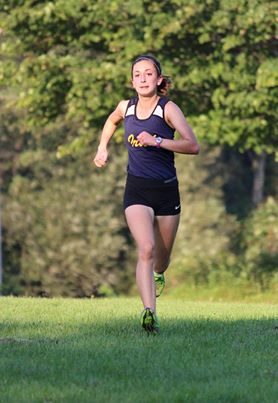 Anna Warner of ND -- photo by David Warner
The Notre Dame boy's and girl's Cross Country teams opened up their season going 3 -1, beating Byron Bergen, Mount Morris, and Cal-Mum.  Big school Wayland-Cohocton were able to knock off the Irish. 
Anna Warner led the girls finishing 2nd in the race with Laurie Call in third.  Emily McCracken finished 9th, Shelby McGinnis 13th, Abby Bleier 15th, Serena Strollo-DiCenso 16th, Isabelle Bliss 18th, Emily Sherman 24th and Rose Flumerfeldt 29th. Byron Bergen was led by 5th place finisher Kim Lovett and 10th place finisher Charlene Clay.  Byron Bergen beat Mt. Morris and Cal-Mum. 
The Notre Dame boy's team was able to place 3 in the top ten with Ryan Fuller leading the way in 5th place, Dylan Fix 7th, and Dennis Bleier 8th.  Justin Carlson placed 11th, Bryan Moscicki 18th, Caleb Nellis 31st and Ryan Shormann 34th.  Byron Bergen finished 2nd and third in the race from the efforts of Robbie Schrenker and Sean Donovan respectively.  The Byron Bergen boys beat Mt. Morris.  Cal-mum's Everett Gieger easily won the race in 17:54, 2:15 faster than 2nd place.
Next up for the Irish is the West Seneca Invitational at Sunshine Park on Saturday.