January 30, 2013 - 8:34am
Notre Dame hammers Kendall as Rapone earns 600th Win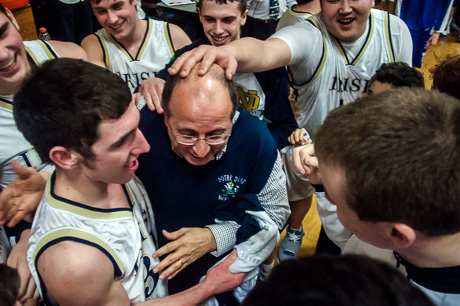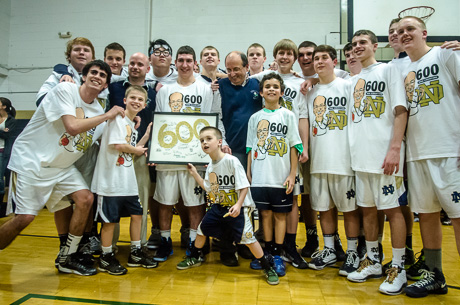 Notre Dame capitalized on a 14-2 run at the end of the first quarter to pull away from Kendall and earn head coach Mike Rapone his 600th career victory, 87-49.
After Kendall's Dan Kelly connected on a three-pointer to tie the game at seven with two minutes remaining in the opening frame, the Fighting Irish came alive, scoring eight straight.
Jared Thornton scored the first six on the run, which was capped by an emphatic right-handed dunk by Tim McCulley to end the quarter.
Notre Dame never looked back.
Rapone became only the ninth coach in New York State history to achieve 600 wins, making Notre Dame Section V's all-time leader in wins during the open-tournament era.
"For me, it's a culmination of working with a lot of great young players and a lot of longevity," Rapone said. "I hope that I impacted their lives in a little way as they matured into young men."
Since becoming the head coach in 1980, Rapone has won 29 Genesee Region League Championships, eight Section V titles, five Far West Regional Championships and two State Championships.
Rapone became the all-time leader in Section V history in 2008, passing longtime Bishop Kearney coach Ed Nietopski with his 546th win, ironically against Kendall.
Despite the numerous accolades and number of wins, Rapone finds that working with his players on a day-to-day basis is just as rewarding as winning games.
"Winning is fun and it certainly makes coaching a lot easier, but just being out here every day with the guys is a good time and we work at it," Rapone said.
One player who has had a chance to experience several milestones in the coach's career is senior guard Vin Misiti, who has been a member of the Notre Dame basketball program since fourth grade when he became a team manager before becoming a player.
"It's special. I've been watching him coach and watching Notre Dame teams for as long as I can remember," Misiti said. "It's just special to be a member of one of the many milestones for the school."
Tommy Prospero poured in a game-high 28 points while adding eight rebounds and four steals for Notre Dame (14-0). Thornton also had a strong outing with 21 points, four rebounds, four assists, three steals and three blocks while McCulley chipped in 19 points, 13 rebounds and three blocks.
"We continue to improve every week, which is what we want to do," Rapone said. "Next week will tell a lot about us as we play Wheatland-Chili and University Prep to see if we are ready to take the next step."
Kelly had a team-high 17 points for Kendall (7-6), as their five-game winning streak came to an end.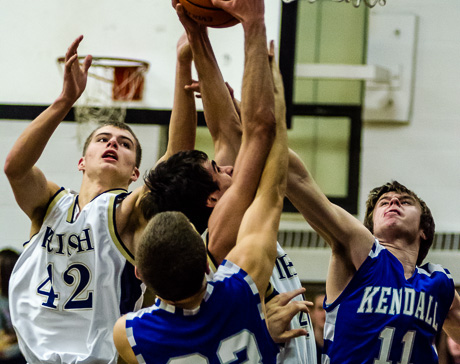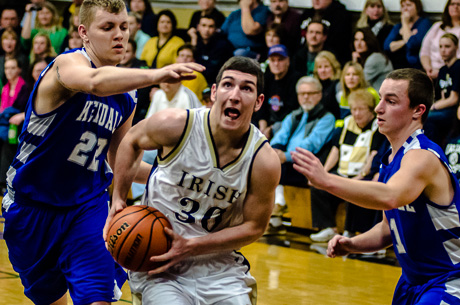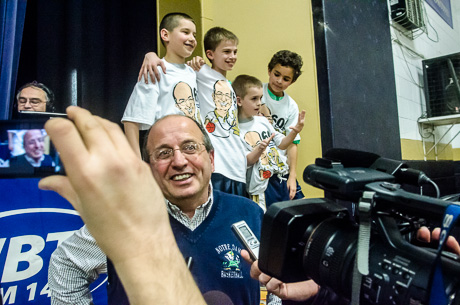 Photos by Howard Owens
To purchase prints of any of these photos or the ones in the slide show below, click here.
January 30, 2013 - 10:26am
#1