May 23, 2015 - 6:32pm
Batavia Track team finishes second place in Penfield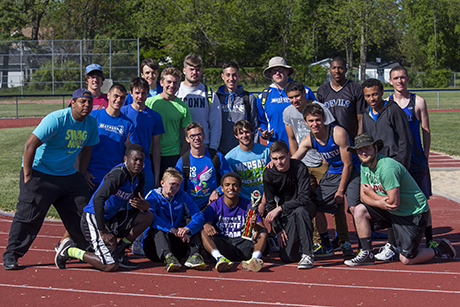 The Batavia Varsity Boys Track Team competed in the Monroe County Championships on Saturday earning a tough second-place finish, 63 points total out of 22 schools competing. 
Junior Adonis Davis had a big day for the Blue Devils earning an impressive victory in the pentathlon. Senior Jerrett Laskett was the winner in the 400 hurdles and placed second in the high jump. Senior Devon Koepp placed third in the disc and fourth in the shot. 
The 4x8 relay team of Senior Eric Dilaura, Junior Cal Jantzi, Junior Louie Leone, and sophmore Campbell Andersen finished in third place also. 
Head Coach Nicholas Burk said, "The Monroe County Championships is a very competitive meet and to finish in second place is very impressive."
Class B rival Greece Olympia finished in first with 75 points. Next Saturday is Batavia's next meet, which is the Section V at Brockport State College.
Full results of this meet can be found at:
http://results.yentiming.com/2015/outdoor/5-23-2015-monroe-county.htm
I can't believe this. All these guys see you taking their picture, pumped on Adrenalin and feeling as proud as everyone wishes they could one day feel and nothing. Someone had to tell them about this post and not one comment from any of them saying "Whoop-Whoop-Whoop." I guess that's what I am here for.
Just when things were looking truly bleak: a George-a-thon. I don't know who's absence causes the greatest sense of vacancy... Kurt Vonnegut, Hunter S. Thompson or George Richardson. Welcome (back) to the Monkey House.
George Richardson, paragon of Gonzo commenting.