August 1, 2017 - 1:42pm
Master Gardener lunchtime gardening series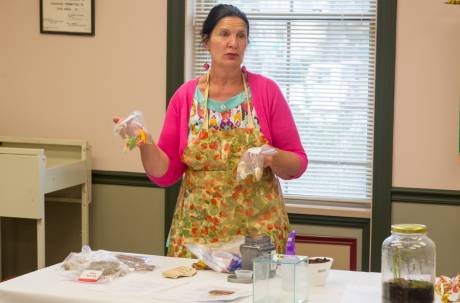 Today at the Cornell Cooperative Extension of Genesee County, 420 E. Main St. in Batavia, Master Gardener Maud Charpin (pictured above) presented a class on a "Do it yourself Terrarium."
She spoke about what is needed to create your own, including supply lists, step-by-step instructions, and pamphlets for websites with video tutorials.
There are many types of creative ways to design your own terrarium including using glass to see through, small stones, dirt, different plants including moss, plus coffee filters, potting soil and decorations non-porous, non-organic. She said plants with different changing colors are a plus, too.
The half hour free monthly demonstrations are every first Tuesday of each month called "Garden Talk" presented by the Genesee County Master Gardeners. The open-to-the-public event is from 12:15-12:45 p.m. and registration is not required. 
Any questions call the office at 585-343-3040, ext. 101. Information can be found on genesee.cce.cornell.edu and their Facebook page: www.facebook.com/CCEofGenesee