March 1, 2022 - 10:47am
Notre-Dame Irish Girls edge Genesee Valley by five points 31-26 to play in finals for Class D1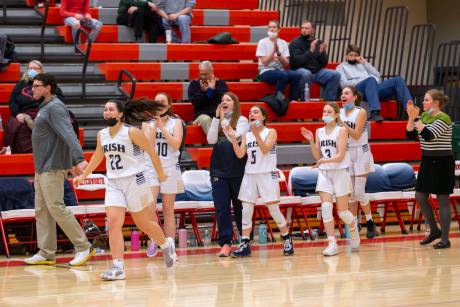 In a close matchup two girls' semifinalist teams, #2 Notre-Dame and #3 Genesee Valley made a game of it for a chance to play this week for Class D1 championship.
Notre Dame came away with a five-point victory 31-26. 
After a slow first quarter down by 4 after the opening quarter, the Irish got some buckets from Emma Sisson who finished with a game-high nine points on the night.
Genesee Valley's Mary Hamer dropped eight points in the first half and 14 total on the night.
The two teams were tied at 12 at the half.
Notre-Dame rallied in the third with points by Avelin Tomidy, Judah Macdonald, and Lindsey Weidman to take the lead 23-16 after three-quarters of play.
Maylee Green had six points, Tomidy, MacDonald, and Weidman, five each.
The Irish kept the pace to maintain the lead and ball possession right to the end and win and advance to the finals.
Notre Dame will take on #1 Filmore at 8 p.m., Friday at Letchworth.
To view or purchase photos, click here.
Photos by Steve Ognibene