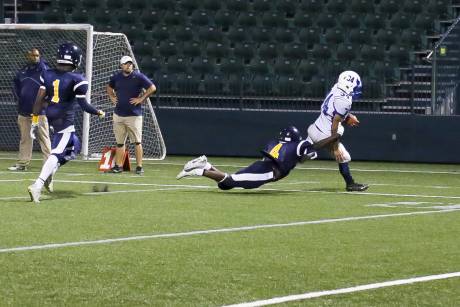 U-Prep and Batavia kept everyone on their toes in a hard-fought game where mistakes were made on both sides last night at Salen's Stadium in Rocheter. Pictured above is Ray Leach for Batavia, catching a pass from quarterback Jerry Reinhart to win the game with 0:07 seconds left on the clock 30-26.
Highlights of the game: First quarter – Terrance Bethel Touchdown scored early 4:25, missed two point conversion, giving U-Prep a 6-0 lead. Batavia and U-Prep exchanged the ball until Batavia recovered a fumble.  
Second quarter -- Batavia scores midway to tie it 6-6. U-Prep carried the ball and converted on a fourth down to score at 7:52 and lead 12-6. Batavia's Eric Davis goes out on a leg injury. Near the end Jerry Reinhart passed a 38-yard touchdown pass to Chandler Baker, two-point conversion is good. Batavia leads 14-12.
John Garlock recovers an onside kick, which Ray Leach scored for Batavia and led at halftime 22-12.
Second half -- Jonathan Williams touchdown for U-Prep at 6:17 thrown by Amari Masse; two-point conversion is good. Batavia's lead is cut to only two points, 22-20. 
U-Prep runs 45 yards to Batavia 10-yard line at 7:36, batavia and U-Prep exchanged a fumble and interception. U-Prep scores late in the fourth to lead 26-22 with 2:52 left.
Batavia dominated on driving down the field with 7 sconds left on a pass caught by Ray Leach. Batavia wins 30-26​.
Batavia moves to a 3-0; U-Prep moves to a 2-1 record.
To view photos and purchase prints click here.