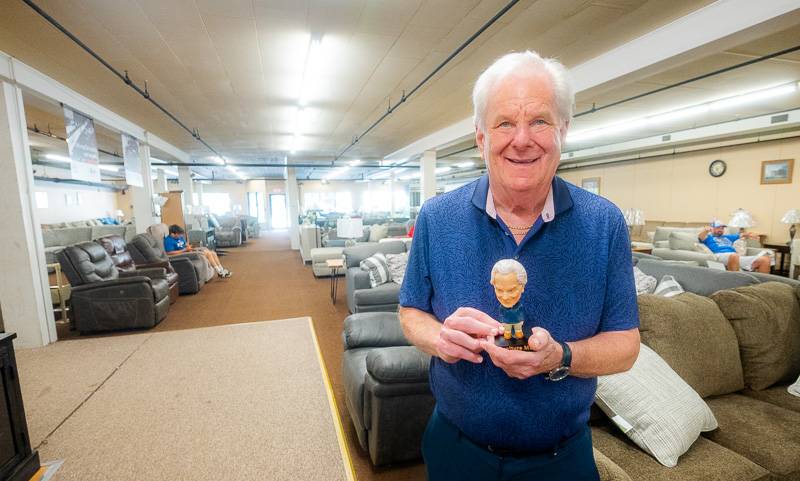 Every celebrity, even local ones, deserves a bobblehead, and now Phil Pies, Batavia's "Furniture Man," has one.
The collectible was the idea of long-time Max Pies Furniture employee Peggy Cancelmi, who was looking for a way the 118-year-old retail store at 400 South Jackson St., Batavia, could support Crossroads House.
"I was also trying to think of a way I could torture Phil, so I worked with Tom Brown at AdStuff productions, and we came up with the bobblehead," Cancelmi said. "We went through three designs and settled on Phil in his famous khakis and his famous blue sweater, and I think it looks just like him."
The bobblehead wasn't a surprise to Phil. He knew what Peggy was working on but didn't really expect to ever see one.
"When they came, he couldn't believe it.  For the first time, he was speechless."
Now that the bobbleheads are in, Phil is clearly proud of them.
"I think it's wonderful. I think it's great," he said. "Why not? The money goes to Crossroads. That's the main thing. I never thought I'd see it (his face on a bobblehead), never in my whole life, but it's for a good cause."
Cancelmi ordered 200 Phil Pies bobbleheads, and they are for sale exclusively in Max Pies for $20 each, with proceeds benefitting Crossroads House.