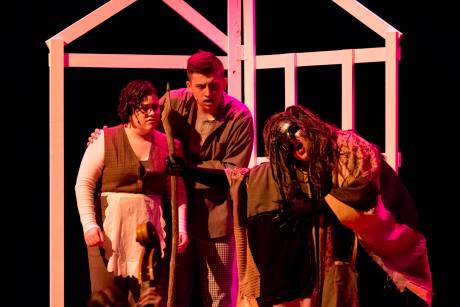 Interview with BHS Drama Director Caryn Wood.
"Into the Woods" is a musical comedy written by Stephen Sondheim, (from Wikipedia). This show takes many well-known Grimm Brothers fairy tales and combines them in an interwoven masterpiece.
The blissful serenity quickly unravels however, as the result of a giant run amok in the kingdom. Sondheim is known for his difficult yet emotionally charged music and lyrics; the cast has worked tremendously hard to bring this challenging story to life.
There are 50+ students in the cast, crew, and orchestra combined with 30+ adult directors and staff and volunteers.
Auditions were held back in November. Casting is always a difficult process because we want to make sure you have considered all of the options. People think you can just choose the person who sings the best, but in reality, you have to take many things into consideration when casting a high school production.
You not only have to consider how well a certain individual will handle the difficult music, but also what their characterization abilities are, and how will that person plays off another person. Casting a show is like writing a composition, it's a process that Musical Director Dan Grillo and I take very seriously.
One of the best things about "Into the Woods" and also a big reason why we chose this show has to do with it being an ensemble cast. There aren't one or two specific leads, but rather a group of people whom the audience follows as the story unfolds.
These characters include The Baker and his wife, played by senior Evan Bellavia and junior Eryn Dunn; you see their relationship on display and their need to undo a curse put on them by a witch -- a key role played by senior Madison Hoerbelt. Others include Cinderella, played by senior Madeline Keenan; Jack, played by junior Sam Rigerman; Jack's Mothe,r played by senior Parise Ricks; and Little Red Riding Hood, played by freshman Kathryn Fitzpatrick.
There are many other recognizable characters as well including Rapunzel, the Wicked Stepmother and Cinderella's stepsisters. We've also added Grimm fairytale characters like the Three Little Pigs, Rumpelstiltskin, the Princess and the Frog, Hansel and Gretel.
Overall, the cast really embraced this show and dug right in working on the difficult music when we started rehearsals back in December. There are great themes woven throughout the show also; sometimes what you wish for the most, doesn't turn out as planned; the love of family and despite their faults, and many others.
One of my favorite moments is when the Baker's Wife realizes that her humble marriage to the Baker is more important than all her fantasies during the song "Moments in the Woods."
With all of the characters there is more to them than meets the eye. A line from the show about this says, "witches can be right, giants can be good."
Watching all of the characters evolve through the plot turns and twists may not be portend the traditional "storybook" happily-ever-after ending you might expect. Yet, in the end everything is tidied up.
Two shows remain this weekend: tonight at 7:30 p.m. and tomorrow at 2 p.m.  Tickets can be purchased at the door or Roxy's Music Store in Batavia.
To view or purchase photos click here.