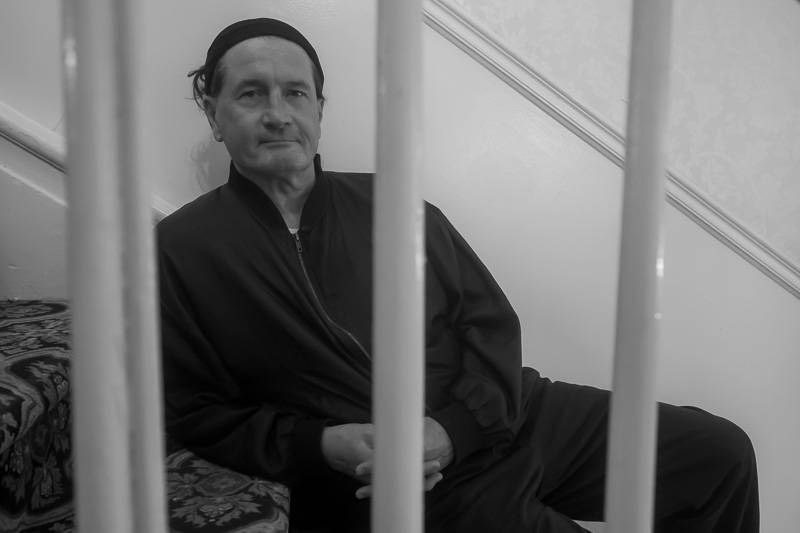 A native of Rochester who has lived "everywhere" before settling down in Batavia eight years ago, Eric Zwieg could easily be described as a journeying artist.
Zwieg, who has more recently racked up academic degrees with no stopping in sight, spent his childhood in his grandmother's cultural Chautauqua Institute surroundings, where he saw great jazz legends, later pursuing music performance in college before quitting after a year to indulge in the real thing — hitting the road for the next several years, forming his own bands, writing songs, recording albums, and scoring acting gigs for Indie movies. 
"I really wasn't getting out of it what I wanted. My mother had been an opera singer in college, so she really wanted me to get the schooling, but it wasn't meant for me. I'd rather hang in the bars," Zwieg said during an interview with The Batavian. "I worked really hard. I was very industrious," he said, adding the piece that most aspiring artists can relate to. "I was a personal trainer, did restaurant jobs, gallery jobs, I used to light shows for galleries, anything to make a buck here and there. And it all added up to put food on the table and pay rent."
He dabbled in writing by drafting his own audition scripts for the theater "to help me stand out a little bit, you know, instead of the same old, same old stuff they hear." 
"So I was always trying to be creative in that respect. That got me the Indie film parts," he said. "They didn't pay anything, but you're working, and you're doing what you really want to do."
Since all of that, for the last seven years, he's been in school full-time, earning a bachelor's degree in writing in 2016 and his master's in writing four years later. And "that's where my writing really started to take on some importance in my life," he said.
He then obtained his master's in fine arts at Goddard College this July, which is when he completed the thesis he is using as the basis for his staged reading of "Passenger: A Billion Little Pieces." It debuts at 7 p.m. Nov. 9 at GO Art!'s main gallery, 201 East Main St., Batavia.  
"It's a fully hybrid memoir, which is important that people understand that, and it's based on postmodern writing disciplines and elements, and postmodern literature, having started after World War II … I'm using all the literary elements, I really wanted to pull a card trick off here, not only on my mentors but on the readers," he said. "I really want to fill it chock full of all this stuff that, it's aesthetically beautiful to read, but they don't know what's going on. And so it kind of takes one to know one. So there's so much hidden, but it's stylistically very academic."
This presentation was made possible with Zwieg's fifth Ripple grant award through GO Art!
"Passenger: A Billion Little Pieces—postmodern reflections in an attempt at several literary sensibilities, attitudes, and genre" is a hybrid of prose, poetry (Haiku, prosaic, anaphoric, repetition, lyric, narrative), definitions, quotes, lists, font variations, cut-and-paste, liberal punctuation, foreign language, dramatic and film dialogue insertions, homage, pastiche, text colorization, watermarks, absurdum, images, page breaks, use of whitespace, academic annotations, object blocks, postmodern concepts (metafiction, unreliable narration, intertextuality, anti-authorism, rejection-embracement of high and low culturalism, nonlinear storyline), embedded dramaturgical direction, irony, metaphor, existential thought, epistemology, naïve realism, philosophical skepticism, parody-satire, unrealistic narratives, paradox, sarcasm, humor, multiple POVs, dreams within dreams, stories within stories, nonuse of page numbers, contractions, quotation marks, and a bit of memoir, be it faux, pragmatic or idealistic.
Those are a lot of varying elements. Given the academic basis of the reading, and you say so much is hidden, will the audience get it? 
Maybe not. They might not fully understand the big picture, he said, but will get the vignettes. 
"They'll get the chapters, and they'll see this guy Henry Grace's character," Zwieg said. "He's an everyman. He's kind of an island."
As Zwieg described Grace, and his own existence over the last number of years, one might wonder if there's also some autobiography in here as well. There is some loneliness. 
Passenger is a professional reading with paid performers featuring Richard Ferris, Stephen VanValkenburg and Zwieg. While there are no costumes or sets, and perhaps because of that, it's the words — their nuance, their lilt, their palpable meaning, their pronunciation and embrace as delivered by the performers — that make this show, Zwieg said.  
He pays homage to his favorite authors, Kurt Vonnegut, David Foster Wallace, and poet Lawrence Ferlinghetti, who founded City Lights Bookstore in San Francisco. 
"I love these writers so much, you're paying homage to them," he said. I'm not trying to compare myself to them. I have my own twist on it too."
Vonnegut is an American writer well known for his "Slaughterhouse-Five," which Zwieg specifically referenced, and Foster Wallace is a postmodern novelist. His other muse, if it can be called that, was rock band Television's album "Marquee Moon," of which he painstakingly rifled through all eight tracks to pull references, quotes and footnotes that have significance for him. 
"There's a section when Henry falls in love with music as a teenager, right? And he goes to see that live band for the first time. So that's where this concept comes from Television. Unless you're a real music nerd, not a lot of people know about it. But this was at CBGBs in the mid-70s, which blew up with Blondie, The Ramones, Talking Heads, Television, on and on and on. It was just, that was the passion of music," he said. "And so that's the connection to music for me. So the eight chapters, you know, See No Evil, Marquee Moon, whatever on down, are the track listings on that album. And there are quotes. There are footnotes throughout … there are seven or eight pages of footnotes that relate back to the photos, quotations, movie quotes, movie dialogue, all that stuff. 
"So I give credit to all those people. But there are a number of quotes from the lead singer and main songwriter on Television, who actually passed away just this year, Tom Verlaine. And so that's that energy I was trying to, you know, that element really means a lot to me."
While working on each chapter, he would key in on one song and listen to it, he said, some 20 times in a four-hour period, to "define and pick a line out here that I can include in my prose texts somehow to make it that more of a convoluted postmodern type of experience."
So there's a lot going on, he said. An easy understatement. However, that's the beauty of art and poetry and words, as Passenger's own script states:  
You. You are. You are you. You have been.

You are. You will be forever. Breathe deeply. Listen. Allow life to be. Simple as a moment.

Fulfilling. The end is what you make it. Who are you? but existence without answers surrounded by suffering. 

Reaching for clarity in all things. Survival dependent upon the balance of randomness, choice, and the process of process. 

Journeys yet unfulfilled.
There will be a second show at 2 p.m. Nov. 11 at Pub Coffee Hub, 56 Harvester Ave., Batavia. There is no admission fee, and it is suggested for mature audiences only of age 17 and older.